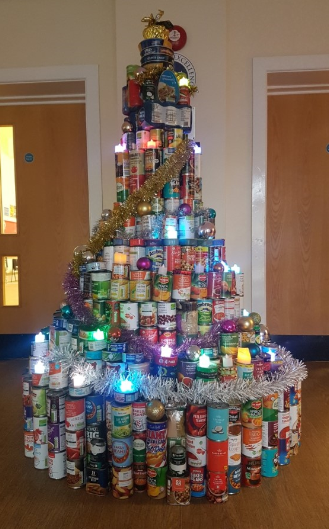 Last year we were proud to attempt our first ever 'Food Christmas Tree installation' made up of tins of food and non-perishable items. We have decided to go bigger and better this year and trying to make our tree reach the ceiling of reception!
We hope that every member of our community will support our initiative and donate at least one food item.
To recognise our students' contribution we would like to offer one house point per day to every student for every item donated. i.e. the more you donate, the more house points!
Can we please ask that from Monday you encourage your son/daughter to bring in cans of food. The Tutor will then elect a tutee to bring your tutor group donations to reception where we will start to build our installation.
The tutors will record points on Go for each item brought in - Max 10 points per tutee.
We are collecting until the last week of term.
Our 'food tree' will stand proudly in our main reception until it is all dropped to The Salvation Army in the last week of term.
We so hope as a community we can smash our record.
Thank You for all your support
from All the Head of Houses