Accelerated Reader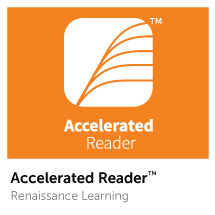 Accelerated Reader is a programme that is used by the English Dept and the Library to encourage reading for pleasure. It helps us to identify students who need support to keep their reading skills progressing throughout Years 7 & 8.
STAR Reading Test
In Terms 1 & 2 students sit a STAR reading test. This helps us to put interventions and support in place for those students whose reading skills start to dip. It also enables us to stretch our more able readers with challenging books to read. Students undergo another reading test every other term so that we can measure their progress.
ZPD –reading level
The reading test results provide students with their Zone of Proximal Development Book level. ZPD just means that if a student reads books within these levels they are more likely to be motivated and will make solid progress. The books will not be too hard or too easy for them. Our Library books are colour coded with labels inside stating the BL (Book Level) of the book. This is to make book choice as easy as possible.
Reading every day for the best progress to be made
To make the best progress students should be reading for 20 mins a day. We encourage every student to always have a reading book with them.
Quizzing
After a book has been read, the student takes a multiple – choice book quiz. They should try to do this within 24 hours of finishing the book. There is a dedicated computer in the Library available at Break and Lunchtimes for doing the book quiz.
Book quizzes can only be sat at school but books do not have to be from the school Library. If you go to http://www.arbookfind.co.uk/UserType.aspx you can search to see if a book has an AR quiz.
AR book points
These are scored after every book quiz is taken. An award system is in place so that the more points are scored the more reading and progress is rewarded. This is a great motivational tool to keep students reading
Progress reports
After completing a quiz, a TOPS report is generated for the student to see their progress. Here is a link to an example http://doc.renlearn.com/KMNet/R004077627GG259F.pdf
The AR 100%ers board
When a student scores 100% on their book quiz they have the privilege of having their name added to the AR 100%ers display board.
Word Millionaires
Students enjoy tracking how many words they read per book. Even the simplest of books can have up to 300 words. The more books they read the quicker they can become 'Word Millionaires' which is another way to motivate them to read.