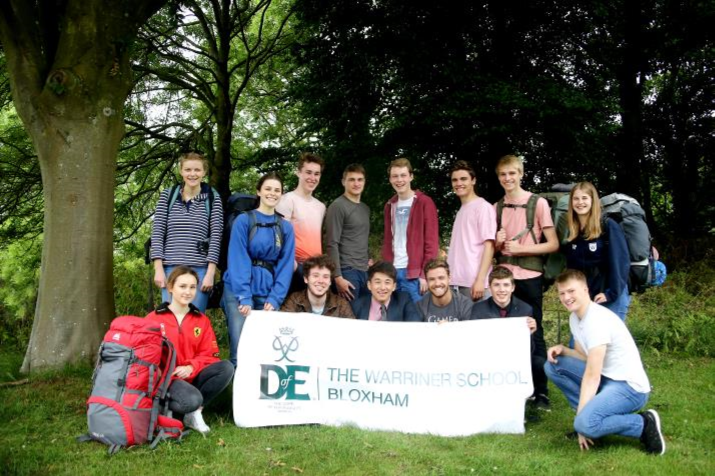 27/3/20 - Email sent to parents of students on B, S & G
Well, we have almost come to the end of our first week in isolation, keeping social distancing in mind at all times! It is difficult for us all, but we are trying to keep positive and keep you motivated through this difficult time.
Last Friday, I sent out an email via Groupcall, but have since had several students message me to ask what to do now they can't get to their activities. Please can you make sure that you forward this email to the students and say that I am also keeping the Enrichment/Duke of Edinburgh page on the website up to date with everything that I am emailing out. I am also sending the students messages via eDofE, so they need to access this on a weekly basis to read what I am saying, if they can. I can see that a number of students haven't accessed eDofE yet. Please could you encourage them to look at it perhaps next week - I can help them as much as possible from home. I release that this is only the first week and don't want to overload you all.
Please try and keep positive. I can see (myself) from being isolated at home for this week, it is not that easy to find replacements for our normal every day lives. But, the things that I have been doing are:
PE with Joe Wicks, live every day at 9am on YouTube. If you only do 2 sessions out of Monday-Friday, that would count for your Physical section. This is great fun and will be good preparation for your expedition.
I have been contacting people - either ringing, writing cards, emailing, texting to check if they are ok - these are mostly older people, but also others that I think would lift their spirits to have contact from outside of their house. This would count for Voluntary section.
Cooking - we have been experimenting with the ingredients that we have in our cupboard. This has been exciting and a family task! This is an ideal activity for your skill section. You could write up a recipe book of what you have made - your assessor will enjoy looking at this.
You do not have to ask me to change your activity if you have already uploaded the planner onto eDofE. Please just list what you are doing on your activity log/sheet of paper with section at the top (a separate one for each section). Put the date and (CV) next to it for CoronaVirus. You can get a parent to sign the sheet. Then at the end of the time you can show your activity log to the assessor and discuss what you have done and it should be fine for them to sign it. PLEASE make sure that the activity you are doing fits in with the right category of Voluntary, Physical or Skill. Please check with me if necessary.
We are all going to need to fill our days up and perhaps the ideas that I sent out last week, may be interesting for you to do. Please note that all communication that I am sending home will go onto the school website / Enrichment / Duke of Edinburgh - with the most recent at the top, so that you are kept in the loop and can refer back easily.
Bye for now - I won't be bombarding you with emails, but perhaps every couple of weeks to parents, but if you can let the students know that I will send them a message via eDofE weekly, so they can check them to see what I am suggesting. Remember, you are not alone, having your DofE journey interrupted - we will get through this and what a great sense of achievement it will be, especially if you have had to change your original plans.
Take care and stay safe.
Mrs Wood - j.wood@warriner.oxon.sch.uk
20/3/20 - Email sent to all students on B, S & G
Many thanks for being so patient with us over the uncertainty caused by the developing Covid-19 outbreak. A difficult situation for us all, but we will endeavour to ensure that your daughter gets the best possible help and support through their DofE journey.
As of 3pm on Friday, in line with "Social Distancing" the School will be closed to all but a few pupils designated by the Government, so expedition training is suspended until the controls are relaxed and School reopens. It is likely that the June expedition will have to be postponed, but we will keep you posted on this. Please be assured that we will continue to monitor Government and National DofE guidance and as soon as we are able to, we will restart the expedition section of the DofE Award.
Activities for the Volunteering, Physical and Skills section can still continue from home for participants - I know that this is a concern for many and we appreciate this - students can decide to do something else on a one hour per week basis (can be broken down to smaller segments). Please make sure that it is in the same Physical, Skill, Voluntary category - you can check this on the eDofE site, or message me. They should log this on their activity log with the date and CV (Corona Virus) next to it; this will help when the assessor comes to do the report at the end of the required time for the activity. We have collated a list for you below which may be of help. Particularly for volunteering, please contact your assessor as the club/organisation that you help with, they may have an idea of what you can do in preparation for returning to them when we have the go ahead!
Physical and of course preparation for your Expedition
Walking
Running
Home based Youtube sports activities - such as yoga, pilates, HIIT classes
Cycling
Skills
Cooking
Baking
St John's Ambulance First Aid resource- https://www.sja.org.uk/globalassets/documents/dofe/dofeselfteachworkbook.pdf
Duolingo app for learning a language
Learning sign language
Gardening
Reading
Boardgames
Card Games
Volunteering
Instead of going into the care home - give them a call or create post cards to send
Fundraise/raise awareness of the Coronavirus
Checking on elderly neighbours - leaving care packages at their door
Ramblers - Don't lose your way - https://dontloseyourway.ramblers.org.uk/
Litter picking in their local countryside - not in contact with others
Missing maps - https://www.missingmaps.org/
Parkinsons charity - https://www.100forparkinsons.com/the-project
Recording wildlife helping conservation - https://www.thesubath.com/volunteer/virtualvolunteering/
Cancer research charity - https://www.cancerresearchuk.org/get-involved/citizen-science
Girlguiding/Scouting/Boys Brigade - build up a book of games/songs/activities/readings, which will be useful for the unit to use at a later date - you can research different ideas and do some illustrations too. Check with the leaders as they may have an idea too.
Please download the DofE app to your mobile to continue with your DofE awards, as this is certainly the way to go and an easy way to check out what you are doing? You can also have a check out of the other information on the DofE website.
Lastly, please remember that communication is very important during this unprecedented situation - the best way to communicate with me is through eDofE where you can message me, or you can email me on my school email address: j.wood@warriner.oxon.sch.uk - please do let me know if you are stuck as to how to proceed. I will be sending a weekly message via eDofE to you all - please do check your messages.
You are not alone here - there are many young people who have had their DofE journey change direction, this situation may make you think slightly outside of the box but your ultimate goal of achieving the award is still very much possible and you will do it!
Take care and stay safe.
Mrs Wood & The DofE Team at The Warriner School
Any enquiries, please email: Mrs J Wood (DofE Manager)
Duke of Edinburgh Award at The Warriner