Learning Ambassadors (Skills for Work)
To be awarded an Ambassador Award is an achievement of high honour at The Warriner School. We are recognising our students' individual strengths and understand that these students will inspire others to improve their standards of work.
To become an Ambassador students must be nominated by their teachers. This happens at various calendared points in the school year. There are ten subject areas in which students may achieve this award.
Our Ambassador badges and subject colours are displayed below: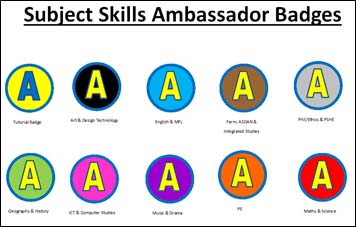 Teachers are looking for students that are consistently outstanding role models. Students should work hard at all times to achieve an Ambassador award. Ambassadors are students that work to a very high level in class and in the completion of homework.
Students will keep a record of their achievement on an Ambassador Student Card: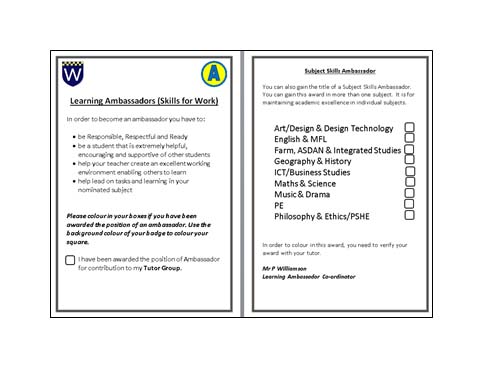 We hope that the students retain and gain more badges as they progress through the school.
It is possible for badges to be removed if an Ambassador does not maintain the high standards under which they were earned.