For our Results page click here.
If you have accepted a place in our Sixth Form for September 2020 please click here to complete our enrolment form.
17th August Update:
After a Government announcement today I am pleased to confirm that Year 11 GCSE students this Thursday will now be awarded grades determined by their teachers, called Centre Assessment Grades (CAGs).
Likewise, for those A Level students who were awarded lower grades by exam boards last Thursday, their grades will also revert back to the original CAGs.
On one hand I am extremely thrilled for all the young people in both Year 11 and 13 who will now receive grades that represent the hard work many have put in throughout their time at The Warriner School, whilst on the other hand, so disappointed in the stress, anxiety and worry this process has caused too many of you.
https://www.gov.uk/government/news/statement-from-roger-taylor-chair-ofqual
https://www.bbc.co.uk/news/uk-53810655
We will send further detail as it emerges this week – for now I look forward to seeing our Year 11 students on Thursday.
Mr Lowdell, Head of School
On 18 March 2020, the Secretary of State for Education announced that the summer 2020 GCSE, AS and A level exam series would be cancelled in order to help fight the spread of the Coronavirus (COVID-19) and that students due to sit the exams would be awarded a grade based on an assessment of the grade they would have been most likely to achieve had exams gone ahead.
On 23 March, in a written statement to Parliament, the Secretary of State explained the government's intention that results would be issued to this year's cohort based on a range of evidence and data, including performance on mock exams and non-exam assessment. School or college-based assessment already has an important role in many GCSEs, AS and A levels and in extraordinary circumstances such as these, schools and colleges are best placed to judge the likely performance of their students at the end of the course.
Ofqual and exam boards will do everything they can to make sure grades awarded this year are as fair as possible for students. This will include putting all centre assessment grades through an external standardisation process to better ensure that grades are comparable between schools and colleges.
The Joint Council for Qualifications have provided this graphic explanation of the grading process: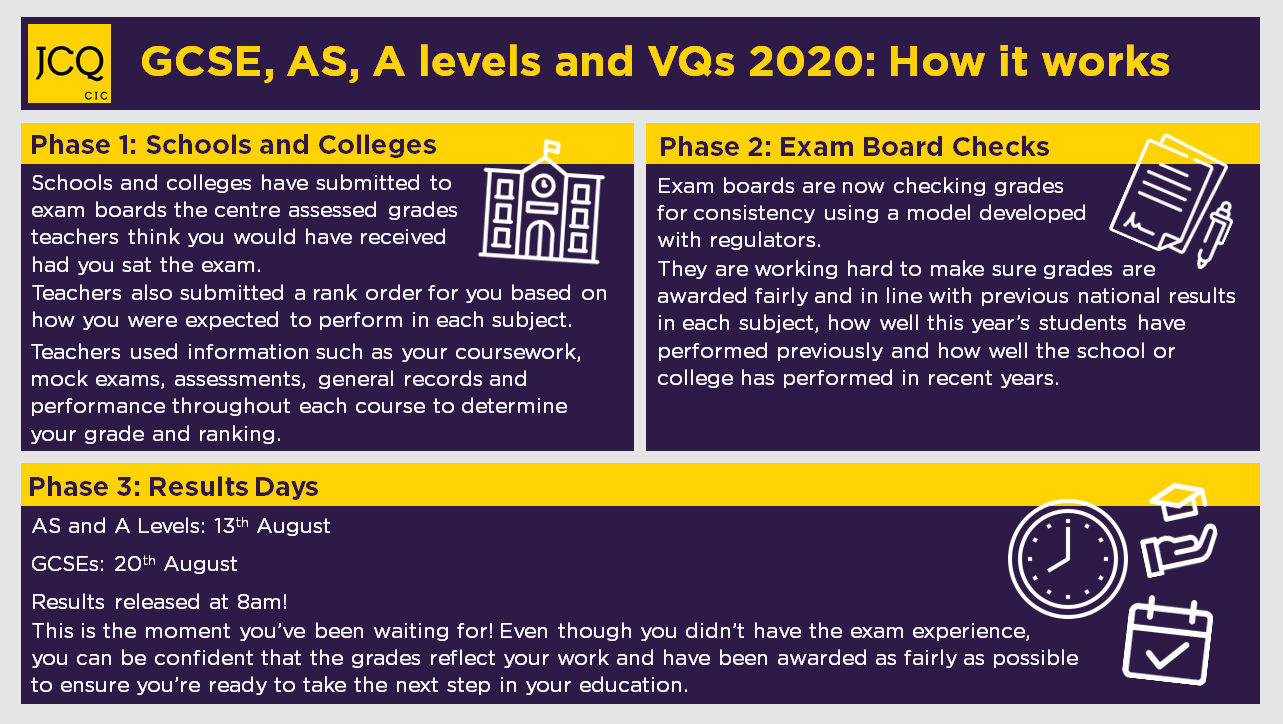 At the bottom of this page are copies of letters which detail our plans for A Level and GCSE Results Days and provide an explanation of how Centre Assessment Grades and final grades have been calculated.
Information on Careers and Next Steps
The National Careers Service has set up an exam results helpline during August 2020. Young people or their parents can contact the helpline on 0800 100 900 to speak to a professionally qualified careers adviser if they need advice on their next steps.
The helpline will be open from 8am to 10pm from Thursday 13 August until Friday 28 August. After these dates, young people will be able to access ongoing support from the National Careers Service at any time by calling 0800 100 900, visiting https://nationalcareers.service.gov.uk/contact-us, or searching for the National Careers Service on Facebook and Twitter.