Apply to Join
Welcome to our Applications Page
To apply to join our Sixth Form in September 2024, please click here to start your application … https://warriner.applicaa.com/year12
Ms Barton - l.barton@warriner.oxon.sch.uk or Mr Smith - ma.smith@warriner.oxon.sch.uk
Timeline for applications September 2024: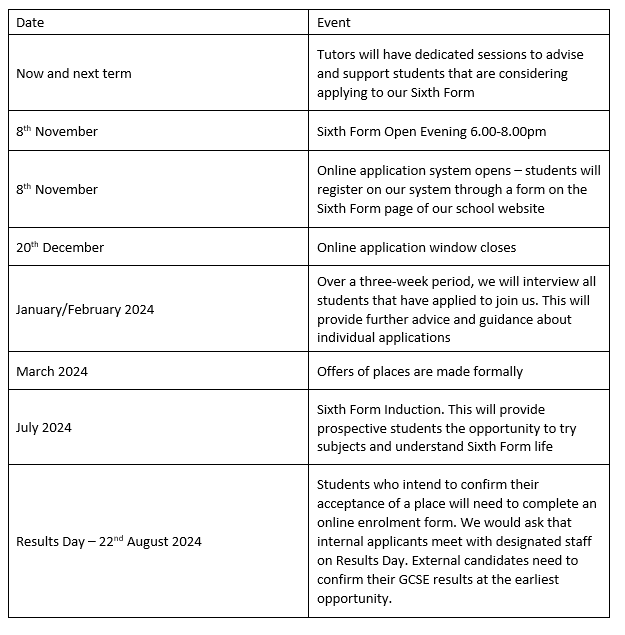 Entry Requirements to the Sixth Form
Condition 1: To guarantee a place at The Warriner Sixth Form, all students must hold a minimum of 5 GCSEs at Grades 9 – 5, including a Grade 5 in Maths and English (Language or Literature).
Condition 2: In addition, students must meet the entry requirements for all selected subjects. Students must embark on a programme of at least 3 full A Level and/or BTEC courses. An equivalent subject with a similar skill set will be taken into account as an alternative measure in the case of an A Level course which may not have been previously studied in the GCSE curriculum.
Condition 3: As referenced in subject specific requirements, Science and Further Maths courses will require a standard above Condition 1.
Please visit our curriculum offer page which provides subject specific details and entry requirements.
If you are not currently a student at the Warriner School, but would like to join us in our Sixth Form please contact us and we will arrange a tour of the school and a meeting with Mr Smith our Head of Sixth Form.