GCSE Results Day, 20th August 2020
It was truly fantastic to see the vast majority of our Year 11 students return to school today, given the abrupt nature of their departure and inability to sit exams. It was wonderful to celebrate their achievements, at all levels, and I am extremely proud that many of them have achieved first choice destinations to further their education.
Congratulations to all of Year 11: you have been a fantastic group of students to work with throughout your five years of study. I am extremely pleased that many of you have accepted offers to continue studying A Levels at The Warriner School, and look forward to your next chapter here. Likewise, I am equally thrilled that many of you have received grades that enable you access into your chosen post-16 pathway. I wish you all the very best of luck in your future endeavours.
If anyone would still like to make an application to our sixth form please contact Mr Matthew Fisher m.fisher@warriner.oxon.sch.uk
Highlights include:
Samuel Britton – 4X Grade 9, 5X Grade 8, 1X Grade 7
Patrick Dickins – 6X Grade 9, 3X Grade 8, 1X Grade 7
Natalie Kyte – 5X Grade 9, 4X Grade 8,
William Robertson – 6X Grade 9, 3X Grade 8
Farrell Hawkes - 6X Grade 9, 4X Grade 8
George Hill – 5X Grade 9, 4X Grade 8, 1X Grade 7
Ben Browning –5Grade 9, 2X Grade 8, 2X Grade 7
Abigail Game – 4X Grade 9, 4X Grade 8, 1X Grade 7
Robert Pollard – 2X Grade 9, 5X Grade 8, 2X Grade 7
Callum Brotherhood - 3X Grade 9, 5X Grade 8, 1X Grade 7
I'd like to extend a very big thank-you to all parents, carers, guardians and staff who have worked tirelessly to support all Year 11 students – a great effort all round.
Mike Lowdell, Head of School
A Level Results Day, 13th August 2020
Today, albeit in a very a different fashion, students, parents and staff have celebrated A Level results at The Warriner School. Crucially, the vast majority of students have been accepted onto chosen university courses or apprenticeships for further study and we are extremely proud of all of their achievements.
In an exam series like no other, students at The Warriner School have worked tirelessly through the challenges of the past months. Our students have continued to access the highest grades, again being offered to study a wide range of courses such as Medicine, Biochemistry, Computer Science, Maths, History, Economics, Business, Natural History, Physiotherapy, Music and Architecture to name a few, at universities which include Liverpool, Manchester, Cardiff, Oxford, Nottingham, Bath and Birmingham.
High Flyers:
Rachel Bemrose A*A*A
Lily Blackwell ABB
Phoebe Brogden A*AA
Georgia Cox AAB
Dylan Hill A*A*AA
Jack Holloway A*AB
Chris Knibbs ABB
Charles Palmer AAB
Kieran Power-Lydon A*AA
Sophie Rumsby AAB
With students not able to sit exams due to the global pandemic, grades were awarded through a process of firstly centre assessment and student ranking before national adjustments were applied to some grades. It was hugely disappointing to see that some students were not given the grade our school awarded, and suffered adjustments when applied through the national model and algorithm. We are therefore delighted by the decision on 17th August to now award students with their Centre Assessed Grades.
Despite the ongoing challenges our students have been fantastic members of the school community and continue to be outstanding role models ready for new challenges in new destinations – for which we wish them all the luck in the world.
Lastly, a huge thank-you not only to the students but parents and staff who have supported them throughout their time at The Warriner.
Mike Lowdell, Head of School
GCSE Results 2019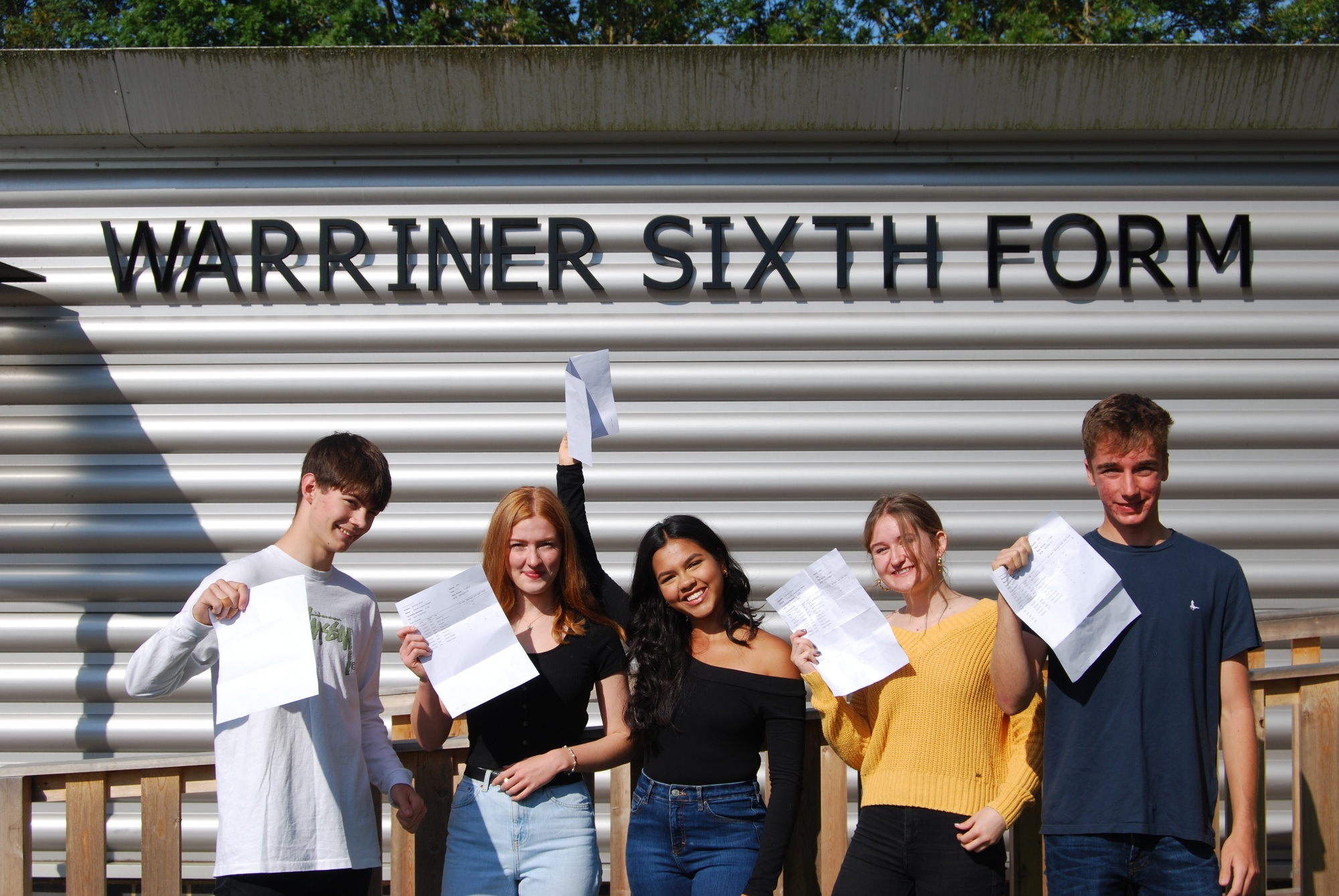 Congratulations to our students who have made fantastic progress this year! These results are a significant increase on previous years - to have continued to improve our GCSE outcomes is an incredible achievement and I would like to congratulate all of our students on these results. Once again the dedication and hard work of our staff and students has paid off in the form of a superb set of grades with some amazing individual performances. I am so proud of students, staff and parents as this has been a team effort all round.'
Highlights include:
Charlotte Aitken- 1 x Grade 9, 6 x Grade 8, 2 x Grade 7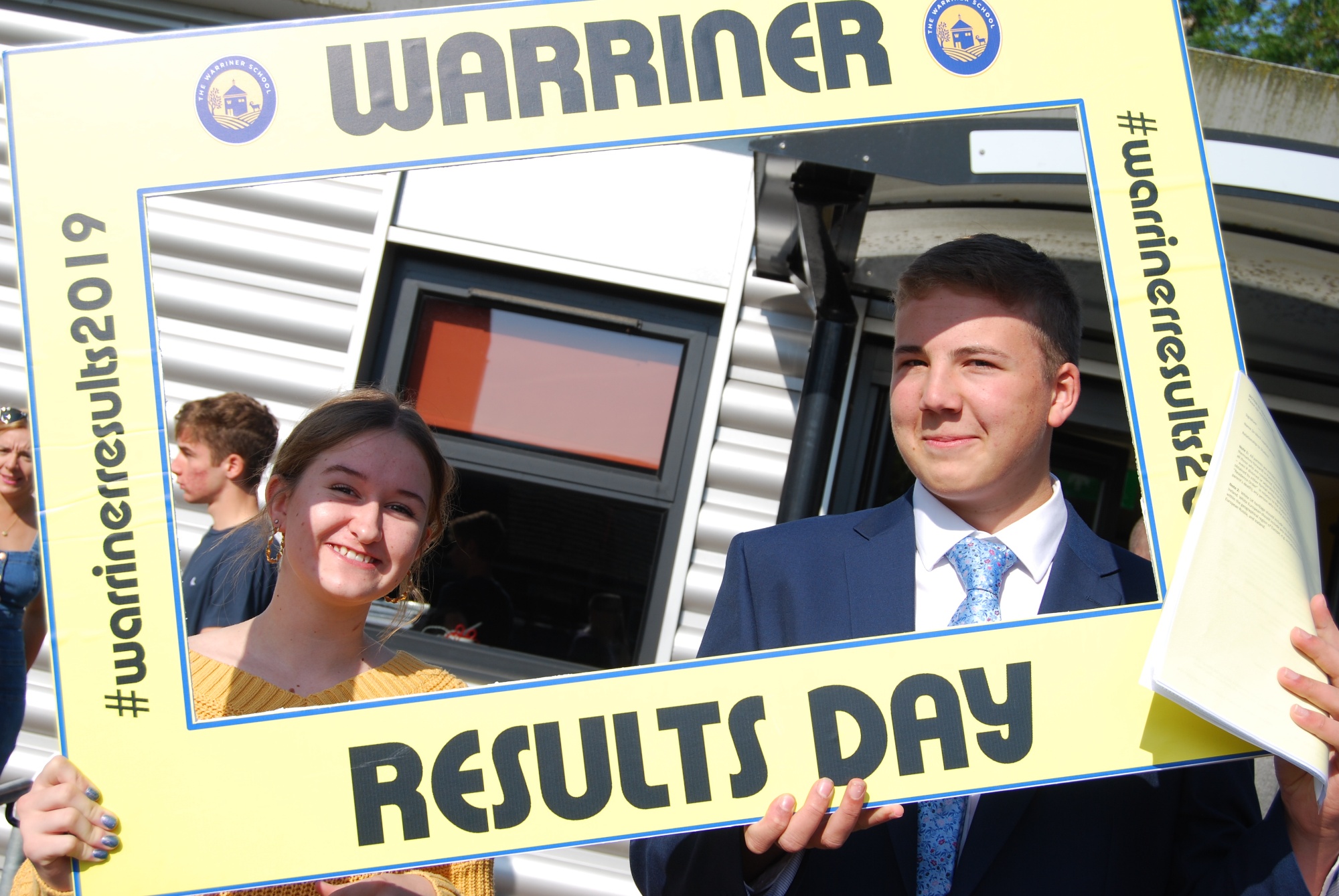 Joseph Clack – 4 x Grade 9, 1 A*, 1 A, 2 x Grade 8
Alex Dongo Munoz – 6 x Grade 9, 1 A*, 1 A, 2 x Grade 8
Claire Forster – 4 x Grade 9, 4 x Grade 8, 2 x Grade 7
Charlie Gaskin – 6 x Grade 9, 2 x Grade 8, 1 A, 1 x Grade 7
Hannah Pelzer-Smith – 4 x Grade 9, 4 x Grade 8, 1 x Grade 7
Samyuktha Rees-Jones – 3 x Grade 9, 6 x Grade 8
If anyone would like to make an application to our sixth form to join this wonderful group of students, please contact Trish Morgan: t.morgan@warriner.oxon.sch.uk
Dr Annabel Kay
A Level Results 2019
Students, Parents and Staff are celebrating yet another excellent set of results from The Warriner Sixth Form with our students achieving more of the very top grades than ever before. This represents year-on-year increases with a larger cohort of students.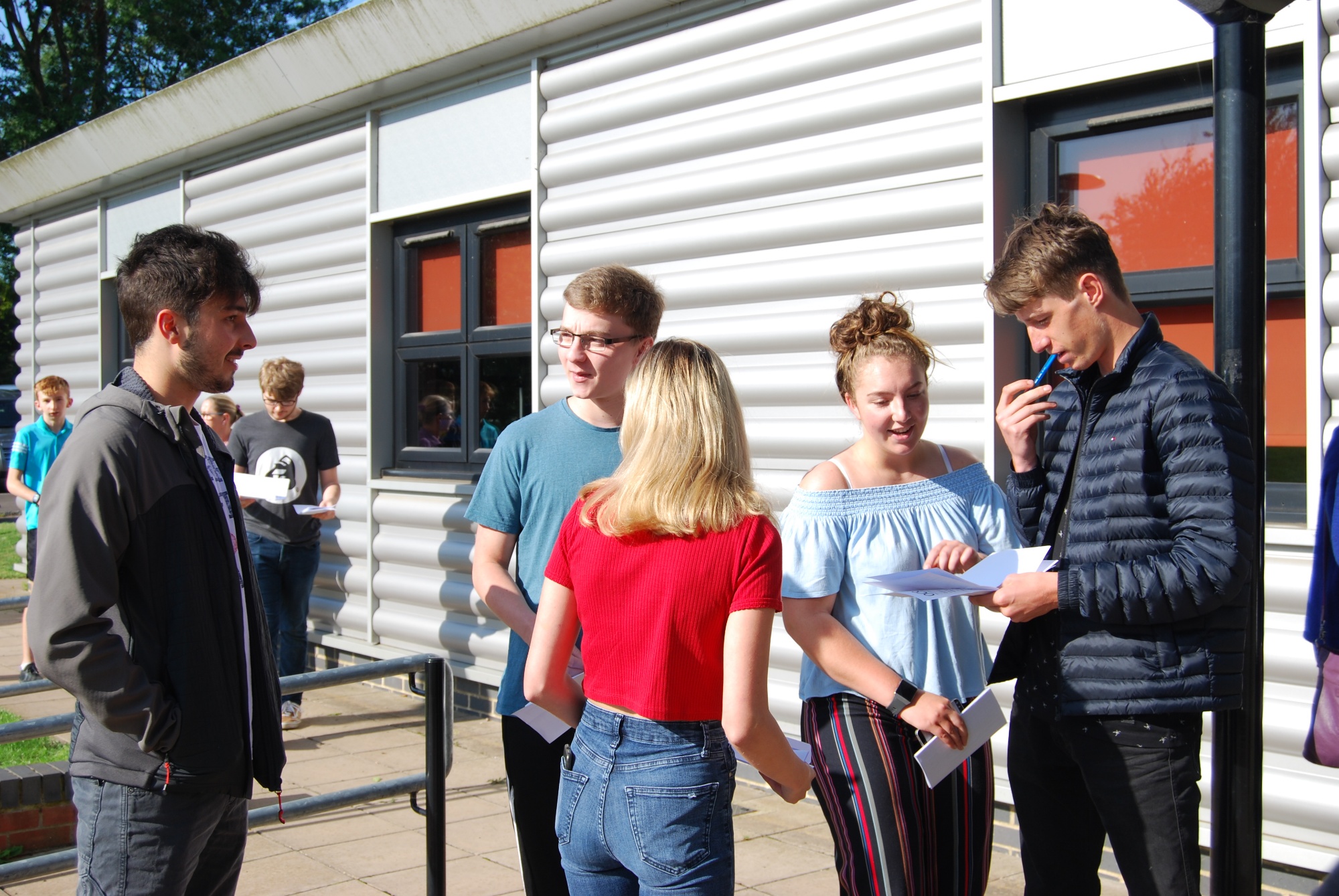 Our students continue to achieve the grades they need to get into university or onto top quality apprenticeships. 100% of our Oxbridge and medic applicants were accepted. Our students are studying courses ranging from Physics, Chemistry, Biology, Maths, Cognitive Neuroscience, Philosophy, Psychology, Geography, History and Maths at universities including Warwick, Oxford, Liverpool, Manchester, and Birmingham.
I am delighted with the performance of our students. I am so proud of the contribution they have made to our school, and the hard work they have put in to their academic studies – it has paid off. I must thank the sixth form staff who have given so freely of their time and expertise to support our students.
20% of all grades achieved are the very top A*and A grades and 46% of all grades are A*, A or B.
High flyers include:
Ollie Bennett A*, A*, A, A
Esme Davison A, A, A
Elliot Dyson A*, A, A
Max Komodikis A, A, A
Felix Noble A*, A , A
Katie Pocock A*, A, A
William Wealsby A*, A*, A, B
Anna Wild A*, A*, A
Percentage of students achieving A*-A grades: 20%
Percentage of students achieving A*-B grades: 46%
Percentage of students achieving A*-E grades: 98%
Dr Annabel Kay
KS5 Performance Summary - A Level Results 2019