Transition
Key Dates for Admission into Year 7:
September 2024
The deadline for completing applications for Year 7 entry in September 2024 via Oxfordshire County Council is 31st October 2023.
Should Oxfordshire County Council offer you a place in Year 7 you will be notified in early March 2024.
We will then be in touch to complete the application process with you in early May 2024 and key information will be emailed to you over Summer 2024
Transition days will be held on 1st and 2nd July 2024
Any queries please email Mrs L Barton: l.barton@warriner.oxon.sch.uk
"The constant communication and inclusivity over the summer was amazing preparation for our daughter, especially as we had moved from overseas and she was nervous about starting in a brand new location. It made her feel like she belonged before she had even started school."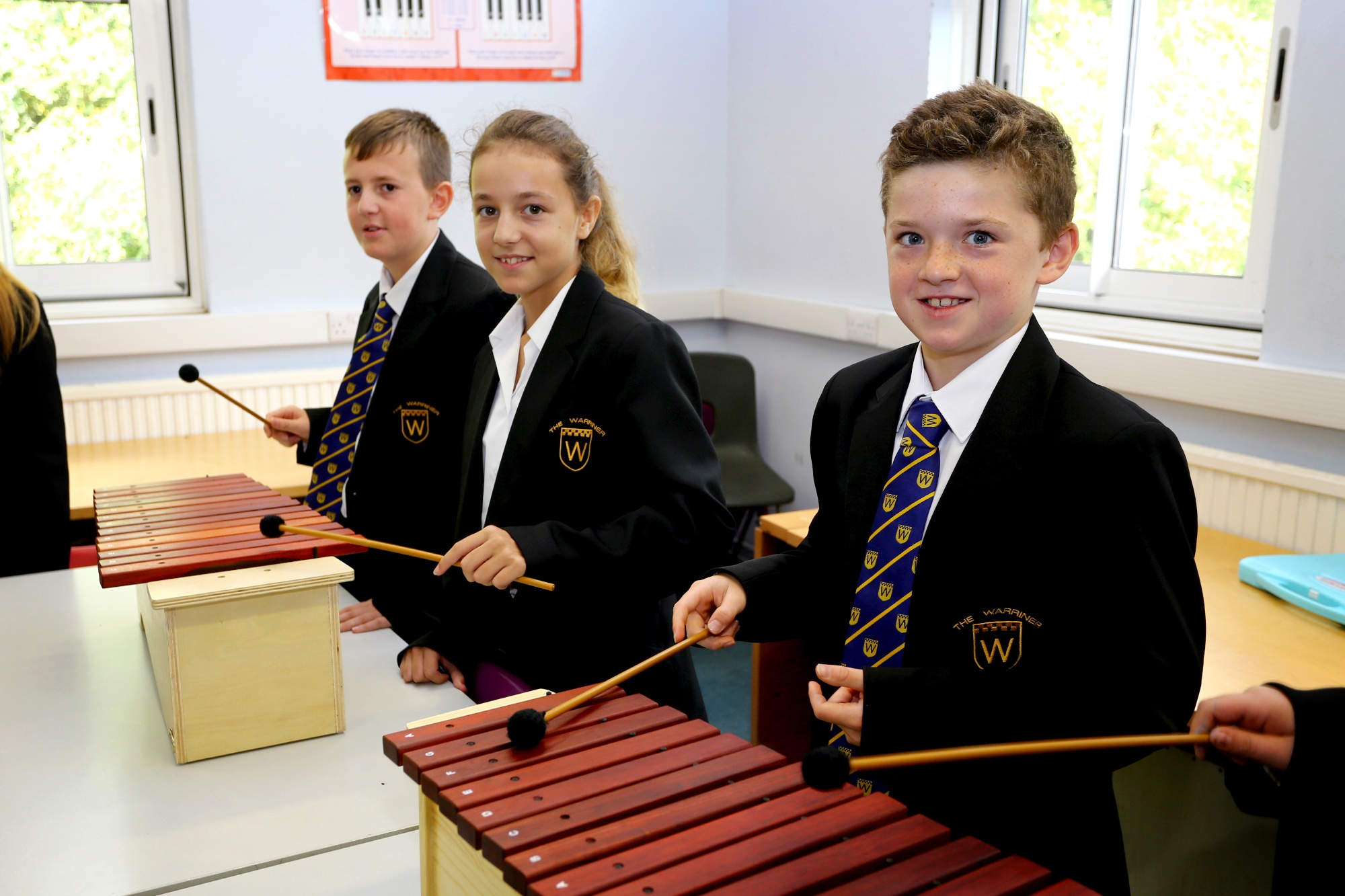 Each year, The Warriner School welcome over 280 students into Year 7. We carefully place our children into one of 10 tutor groups, which are split into 5 houses. We are enormously proud of the transition package that we provide to Year 6s as they step up to Year 7 and join our Warriner community; feedback from parents and carers, partnership primary schools and the children themselves, support this. There is a wealth of excellent work that goes on from March, right the way through until October, which ensures that our new students settle quickly into The Warriner School community and develop a sense of pride and belonging.
"My favourite thing about the Warriner transition has been meeting new friends and enjoying new subjects that I haven't tried before. I really liked meeting new people because i feel like it's a new opportunity for me and I am really enjoying the new subject because I like the new changes I have had to my school life."
Below, you will find an outline of how transition works at The Warriner School:
1. PRIMARY LIAISON
Our transition team liaise closely with Primary colleagues to ensure that we receive clear and valuable information on each child's academic performance, learning style, and specific needs. This helps us to build effective teaching classes and tutor groups early in good advance of the summer holidays. We meet in person, or virtually, with Year 6 teachers, SENCOs and pastoral staff from primary schools to ensure that a thorough and robust handover takes place.
2. PEN-FRIENDS
As part of the transition process our current Year 7 students pen a personal letter to a Year 6 student, welcoming them to The Warriner and informing them of all the exciting stuff that's to come! They offer some lovely advice and share their experiences. You will see some examples of these letters on the right-hand side of this page. Year 6 teachers will share some of these in primary schools during the summer term, and Warriner colleagues will deliver more of these letters when we visit primary schools before the summer holidays.
3. PRIMARY VISITS
During the summer term, our transition team pay visits to Year 6 students at their primary schools; We will explain to Year 6 students and their class teacher what Warriner life is all about, share letters from pen-friends, and answer some of the many questions that the young ones have!
4. STARTING IN SEPTEMBER

This is when Warriner life really begins. There are ten excellent and committed Year 7 tutors who provide a warm and reassuring welcome. Students get new timetables, pocket organisers, and really learn the ropes in a supportive, yet encouraging environment. Lots of fun activities and challenges allow our students to figure out all the important things that happen at secondary school. Our specialist teachers greet their new classes and begin to engage them with challenging, interactive lessons. The students get to use our Warriner restaurant and see the range of additional enrichment activities that we have on offer.
5. SETTLING IN EVENING
After their first term, we hold a Year 7 'Settling In Evening'; We chat about what has gone well, which aspects need some attention, and look carefully at the quality of work that our Year 7s have produced at The Warriner, compared to at primary school. Parents, carers, and Year 7 students are invited in for key messages, and the opportunity to liaise with their form tutor.
6. Our Reading Commitment
"Research has shown that reading for pleasure can make a huge difference to children – not only academically (even in subjects like maths) but also socially and emotionally."
BookTrust, the UK's largest reading charity
This is something that we, at The Warriner School firmly believe in. As members of staff at a large secondary school, we are very much aware that as children grow older, a lot of other activities compete for their time. So, how can you encourage your child to make time for reading? Below is a list of suggestions from the BookTrust which could help encourage even the most reluctant readers:
Talk about books. Show an interest in what your child has read, ask questions about it, and swap opinions.
Try funny books. Everyone likes a good giggle! (Or mystery, horror, fantasy…)
Try series fiction. There are some wonderful series out there that have converted reluctant readers into bookworms.
Find books related to your child's interests. Whether that be sport, cooking, gaming, outer space. Your child is more likely to read a book about something that is important to them.
Don't worry about what your child is reading. It could be a short story, poetry, a graphic novel, non-fiction. It really doesn't matter - as long as they're enjoying it!
Give them the chance to choose their own book. It's empowering.
The Warriner School library has a full-time librarian (Ms Morton) and a dedicated slot for library lessons for Years 7 and 8 where students delve into exciting books together. Our library stock is continuously refreshed and suggestions from students are welcomed. Below is a list which should give you plenty of age appropriate and riveting stories to choose from – all available in The Warriner School library. (Click the link to see the suggestions of books to read)
In the words of Roald Dahl, "If you are going to get anywhere in life you have to read a lot of books."
"From a feeder primary school perspective, without fail The Warriner School offer a thorough and immersive experience to the Year 6 students This year, the transition team have been really responsive to the changing restrictions - I was so impressed because The Warriner were the best of all the schools."
From the moment that a family have decided that The Warriner is the place for their child, we do everything that we possibly can to give our new students the best possible start. We are proud of our school's 'RESPONSIBLE-RESPECTFUL-READY' culture, and thoroughly enjoy welcoming our new students to join us every year.
"My favourite thing about being a student at The Warriner is that all the teachers are so kind and supportive"
What advice do our students have for Year 6?

"Don't worry at all because when you get there it is all fine. And on the first day there are only two year groups in school so it is very calm."
"Every night before school get your books together because you do NOT want a detention for that ! Get all of your new school uniform well in advance so you can choose the right size."
"Pack your own bag every day. You will get a lot more homework - some to be in in a few weeks time and some to be in the day after - so check Show My Homework to help to remember it."
"Pack your bag the night before and always keep a spare timetable at home as well as in your blazer pocket."
"Be prepared for the day, make sure you have everything you need. Don't worry too much about seeing your friends in class because you will make lots of new friends in the first few weeks."
"Have the right equipment, do your homework the night you get it,
and hand it in on time!"