House System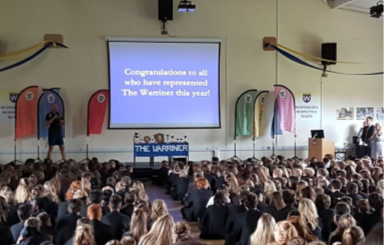 All Warriner students belong to one of our five houses, named after influential British icons. The houses contain students from all year groups, with the older students helping to ensure younger members of the house feel happy, supported and welcomed into their school family.
Diversity is celebrated and an inclusive sense of community is nurtured. House Points gained by individual students help to gain personal rewards, but they also count towards the points total for their house. This determines which house wins the annual house competition and reward trip. Students are encouraged to show loyalty to their house and actively involve themselves in the many house competitions that take place throughout the year. The house system helps boost self-confidence and self-esteem, encouraging students to further develop their ambition and aspirations.
Click on the drop-downs below to find out more about each house.
ATtenborough house
Head of House: Ms Sarah Brown
House Colour: Green
Sir David Attenborough is our only living house ambassador and has made it his life's mission spanning an incredible 70-year career to commit to the education of people, from every generation, about the Natural World around us. The focus of his early work was that of discovery and wonder of our planet. However, in recent decades he has been calling for an urgency to persuade us all to make changes if we do not want to see irreversible damage to our lives and planet.
In our hands now lies not only our own future, but that of all other living creatures with whom we share the Earth.
Sir David is a man with great humility and empathy towards others, and these are qualities we wish to see on display from our students. A passion to pursue a focus of education, and beliefs in our own values and those of others are other qualities we can learn from Attenborough. We can all make small changes and play a part in our aims in order to achieve a greater good and move towards a common goal. Whether that be in treating the environment around our school site with respect, or working together to gain House Points and striving to be the best we can be, or going into our community and being socially and environmentally aware. Our charities are The Royal Forestry Society and Bumblebee Conservation Trust.
Being Head of Attenborough House gives me great honour and a huge sense of purpose. Attenborough encourages each house member to have confidence and independence to get to know other students from other classes and other year groups, to stand up and be part of a common theme of belonging to a group of individuals with a common purpose of making The Warriner a great place to learn, socialise and develop in. Attenborough will allow students to develop skills beyond their years that will take them beyond the classroom and hopefully inspire them into careers they have a passion for and lifelong goals that Attenborough himself has embodied.
Ms Brown
Churchill house
Head of House: Mr L Rogers
House Colour: Blue
Churchill House is named after the late, great Sir Winston Churchill (1874–1965). Churchill was British prime minister from 1940 to 1945 and again from 1951 to 1955. He is remembered as one of the most influential Britons and one of our country's greatest prime ministers after he led the country through WW2. Churchill was famed for his 'bulldog spirit' and never-give-up attitude.
Churchill house shares the same values that are seen in Churchill. A desire to always improve yourself, a never-give-up attitude and a willingness to face challenges head-on. Being a part of Churchill family allows you belong to something bigger than yourself. You become part of a welcoming and caring community that comes together to support each other and work for each other. This can be seen whenever we represent Churchill in house competitions, whether that be sporting or academic, or even competing in some of our more unique house events such as Photography and E-Sports competitions. Our house charity is The Royal British Legion.
Being Head of Churchill house had been a source of immense pride and something I have loved doing over the last few years. It is amazing to see first-hand how talented and committed our students in Churchill house are and I consider myself extremely privileged to be in the position I am, where I can celebrate these qualities with students.
Mr Rogers
Pankhurst HOUse
Head of House: Miss K Toth
House Colour: Purple
Emmeline Pankhurst fought for female suffrage at the turn of the 20th century and was one of the greatest campaigners for female rights in history. Pankhurst epitomised key qualities such as equality, perseverance and determination, which we feel are key in succeeding at school. Pankhurst House aims to facilitate and increase community spirit through peer mentoring, elevating the existing rewards system, encouraging students to get involved in competitions and supporting students to look after one another.
Deeds not words.
Our house charity is Banbury Young Homelessness Project. The Pankhurst House objective is to give every Pankhurst member a sense of belonging that is inspired through positive role models from within their peer group, a sense of achievement outside the classroom that fuels curiosity and creativity, and fun and excitement through competition, promoting both leadership and collective responsibility.
Student voice is key to the centre of our house, with regular visits tutor groups to gauge student opinion on how to make our house the best it can be.
I am very privileged to be the Head of Pankhurst House and absolutely love the role. I believe that the House system at The Warriner School is a positive addition to the school experience for our students. It is something away from the curriculum that encourages students to get involved and to find ways to represent their house; whether that be through sports, music, art or acts of kindness and respect.
My vision for the House system at The Warriner School is absolute: to provide a safe, purposeful pastoral environment where all students and staff can succeed and excel socially, emotionally and academically, motivated to achieve their full potential whilst contributing to a competitive house system. I love to see students approach me to talk, to ask about the house system or events and how they can get involved. Since taking on the role of Head of Pankhurst House my experience has been nothing but joy!
Miss Toth
Turing House
Head of House: Miss H Maclachlan
House Colour: Orange
Named after one of the team of geniuses that helped in winning the Second World War, Turing House prides itself on being named after such a British icon. Alan Turing (mostly notably portrayed by Benedict Cumberbatch in The Imitation Game) is often thought of as being the hero that saved millions of lives, billions of pounds, and helped bring an end to the war through his deciphering of the German secret code machine – the 'enigma'.
Alan Turing displayed tremendous courage, resilience and strength of character during his life. Turing students at The Warriner School should be extremely proud of the man behind the name and try each day to display the same courage, resilience and character that he displayed during his life.
Sometimes it is the people no-one imagines anything of who do the things that no-one can imagine
Despite his huge impact in our lives, he was eventually persecuted for his sexuality. As a result of this, we recognise the importance of inclusion and creating a safe space for everyone. Turing House is extremely proud of our identity and ensures that we do what we can to make everyone feel welcome within our school. By promoting inclusive clubs and activities, we ensure that everyone feels represented fairly.
As Head of House, I strongly believe it is my duty and role to inspire all and provide students with a visible and positive role model. I am extremely proud to be Head of House and am inspired daily by the Turing students I see around school. I want Turing students to be inspired to aim high, think creatively and achieve their full potential. The Warriner provides a great place to learn, socialise and develop all the skills and values Alan Turing demonstrated. Turing House will support students to develop these skills beyond their years and inspire them into careers they have a passion for and lifelong goals that Turing and The Warriner School embody.
Miss MacLachlan
Seacole House
Head of House: Mr N McAnulty
House Colour: Yellow
Mary Seacole (1805-1881), was born in Kingston on the Caribbean island of Jamaica. From a very young age Mary had an interest in medicine and nursing. When she was just 12, she was helping her mother run a boarding house in Kingston, where many of the guests were sick or injured soldiers. Although turned down by War Office in London to request to join Florence Nightingale and her team of nurses treating wounded and sick soldiers in the Crimea War, she was undeterred and ventured out with a ship stockpiled with medical supplies to open a British hotel near the battlefields to care for the wounded soldiers. Mary so was caring, in fact, she became known amongst the soldiers as "Mother Seacole".
Joining Seacole, you join a family that holds the values of tenacity, support and passion above all others. In Seacole you will be supported and your achievements celebrated both as a whole house and as a tutor group. You will be rewarded for outstanding effort or achievement and you will come to realise that you are important to us and our house.
We support the Helen & Douglas House charity and where possible, we aim to raise funds for this important resource.
Mr McAnulty