10/09/20 - Encouraging students to engage and upload information onto their eDofE for me to approve. You can do this! It has been a difficult time for us all, but if possible try and work through your activities. Check out the video below to complete your award.
04/09/20 - Communication sent home to all three levels, via ParentPay. Slight changes, but this is the main that was sent to Year 10 who signed up for Bronze in Feb 2020
Wow! What can I say, you have been doing some wonderful activities and I am impressed with what has been uploaded onto your eDofE and sent to me for approval. Well done.
If you haven't made a start, or have been logging activities and not yet got onto the system, PLEASE DO NOT WORRY! There is plenty of time to do the activities. We enrolled you early for your Bronze due to lockdown.
We hope that you are glad to be back to school and into some sort of routine. If you need some help, either message/email me, or come and see me in Reprographics, which is next to the library. I will be working every morning until 1.15pm for this term. I CAN HELP YOU if you need pointing in the right direction!
Please check out these important points:
Keep a record of your weekly activities on your activity log and get someone to sign it to say you have done it - please note this does not need to go to your assessor to be signed or uploaded onto eDofE UNTIL you have completed the 3 or 6 months
As soon as you have finished the 3 or 6 months, then PLEASE get the assessors report sorted asap - the problem that students have is that they take time to finish the sections off and it becomes more and more difficult as the months pass! It is good training in time management to keep on top of your DofE
PLEASE check if you have any unread messages (under communications on the top right of your eDofE) as I have had to query a number of pieces of evidence and when I do, it should send you a message! However, not sure the students are seeing the messages, as they are not doing what I have said! (You only cross the assessors report box when uploading the paper assessor report from your DofE book, which some of you may not have received. If you don't get the paper copy completed, signed, photographed and uploaded onto your eDofE, you send the assessor the link below!)
When you have finished the activity, you send you MUST upload your activity logs and photos onto eDofE, then you send them to your assessor together with the assessor link and your eDofE details: https://www.dofe.org/assessor The assessor will then send your report straight to your eDofE for me to approve (I can only sign off the section if you have uploaded your activity log and evidence)
We are intending to sort out the expeditions for 2021 as soon as possible and will let you know details. However, at the moment, this is dependent on government guidelines and decisions on timings of external examinations re Covid-19
The DofE page on the school website is kept up to date with communication for the students - please check here if you need confirmation - https://www.thewarrinerschool.co.uk/duke-of-edinburgh
You have all done brilliantly, considering you have started your DofE journey totally virtually! When we are able to, we will start expedition training. However, it is important to TRY and get at least 2 of your activities (if not all 3) completed by 31st December. Well done.
As I have said before, please do let me know if you have a problem and we can sort it out quite quickly and easily, even by email! Now we are back to school, I will endeavour to visit the tutor groups in the next few weeks.
Bye for now. Have a good weekend.
Mrs Wood - DofEManager@warriner.oxon.sch.uk
13/8/20 - Please keep up the good work that you are doing with your DofE award. Well done to those who have already completed their three sections and received their DofE certificate of achievement. Below are some points to focus on before returning to school in September:
If you have not yet logged on, please have a go and if you are stuck, please email me as I have helped a good number of students who have either lost their log in details, not received them or forgotten them! I am here to help you. The aim is to get you all logged on before returning to school. If you are stuck as to what to do with an activity, let me know and I will guide you with some ideas
Firstly, check if you have any messages from me on your eDofE - Communications/Messages/Number in red - please read as I may have queried your planners or some evidence
Complete your planners for Voluntary, Physical and Skill sections and ask me to approve them (Mrs Wood)
Check if I have approved your planner, or if it is in draft because I have queried what you have sent me or you have not filled in the assessors name
Remember, parents cannot be your assessor (please put neighbours, tutor, teachers), but they can sign off your activity log
When you upload photos, or print screens/evidence, this is not an assessors report (please do not tick the box before you send it to me to approve). When you complete the required time, you will need to get the assessors report sorted and the box can be ticked for that! Please check out posts below to find the link to send to your assessor to upload the report direct to your eDofE
I cannot approve your section (even if your assessor has sent the report direct to me) unless you have uploaded your activity log and any other evidence that you wish to post
Remember, when we return to school in September, we will be letting you know information for the expeditions, Spring/Summer 2021 - however, it is very important that you get your three sections finished before you do the expedition.
Any questions, please email me: DofEManager@warriner.oxon.sch.uk
Lastly, please keep up the good work. I am really enjoying the photos that are being sent in and I can see what amazing activities you have been doing during this difficult time of lockdown. You should feel very proud of your achievements (I certainly am), particularly for those doing their voluntary section to benefit family, the community or a charity. I am very much looking forward to working with you on your DofE journey in September.
Mrs Wood - DofE Manager at The Warriner School - 13th August 2020
20/7/20 - Video posted on Satchel:One (SMH), which gives you some useful hints and tips on getting through your DofE Award.
18/7/20 - Ideas for Voluntary Section for Students:
Where do you live and what do you normally do when not in lockdown?
- Litterpicking - making sure you wear gloves and have a bag and only pick up what is safe to do so
– Virtual volunteering
– Missing maps project
– You can help your siblings/cousins/neighbours with their homework or music practice, or even read bedtime stories via Facetime/Zoom etc. if not in your own home
– Prepare some sessions for future Beaver, Cub, Rainbow, Brownie meetings or youth group, dance or sports clubs for once they resume
– Prepare some resources to be used by the younger members of youth group to be sent home to parents online to help them during isolation
- Help neighbours with tasks that would help them during Covid-19. E.g. walking the dog, clearing the garden, talking and entertaining them too!
– Prepare some meal parcels, go shopping or walk the dog of people who are affected by coronavirus
– Skype talk / face time / WhatsApp call to the elderly neighbour to keep them from being isolated
– Maintain Facebook or Instagram page / websites for a local group or charity
3 months is only 12 hours!
17/7/20 - Certificate from Region, showing what a huge amount of time the DofE students give to the award. Please also read the quotes below from two DofE students: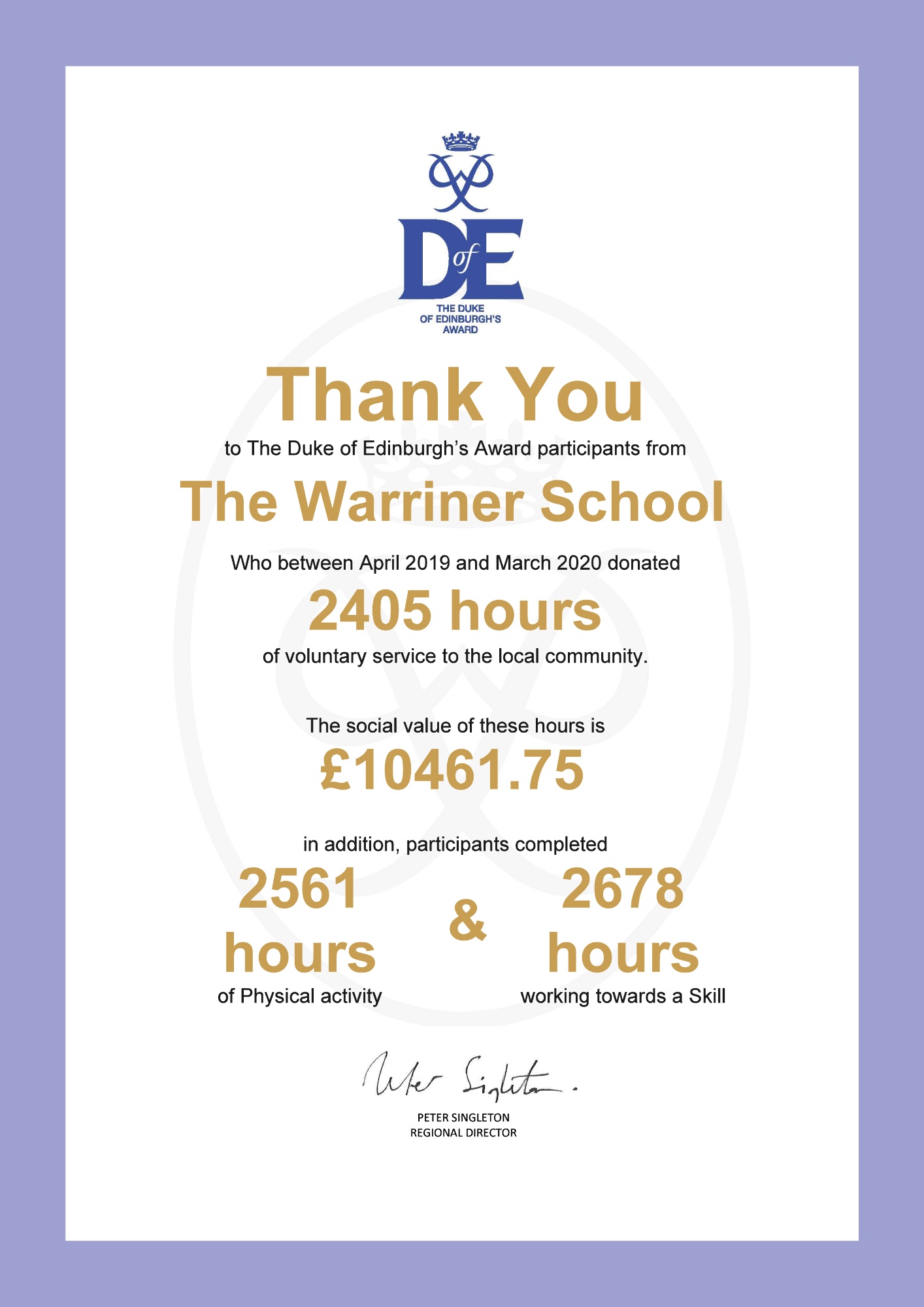 ​​​​​​Litterpicking is a favourite voluntary activity for the students to do. This is a really positive quote from the Deddington Facebook page: "Just been up there to walk the dog and a young lad, kitted out with gloves and bin bags, was clearing it all up, plus walking the whole of castle grounds picking up any other litter he could see. Doing it as part of his DoE I believe. Absolute legend"
Another piece of evidence from a student: "Over the last three months I have collected two bin bags of litter every week and also managed to clean the road signs due to them getting dirty rather easily. I am shocked at the amount of litter still being thrown out of car windows and the laziness of those who can't put things in the bin.
The village have two litter picks a year but it does need more than that to keep on top of things. the majority of stuff found consists of plastic and glass bottles and a variety of beer cans in bushes mostly.
My solution: 1) We need to educate people about how big of an impact a single piece of litter can have whether it's damage to animals or the environment, they need to know decomposing rates and 2) to create some signs that I put in high littered areas saying "do not litter, dispose of responsibly".
I do believe the litter will always be there and is near impossible to completely stop it but I believe we can definitely decrease the possibility in some villages by a good amount.
15/7/20 - Messages groupcalled to all levels:
If you have a few spare moments, I suggest you check out some useful links below as there is lots of useful information and you may get some inspiration from what you read:
Activities with a difference due to Covid-19 - https://www.dofe.org/dofewithadifference/activities
Welcome pack online, in case you have mislaid yours, or never received it! - https://www.dofe.org/welcome-packs-dth/
Add the Mobile app to your phone, to make uploading evidence easier for you - https://www.dofe.org/app/
For those who have enrolled on Bronze this year, If you complete all your activities before 31st December 2020, you will receive an accreditation certificate without doing your expedition and this will enable you to go onto Silver, without having to do extra months on one activity (Your Silver practice, can be your Bronze assessment!) - https://www.dofe.org/dofewithadifference/achievement-for-all
Link for your Assessors report - send this link and evidence to your assessor and they will complete your assessors report online and it will go straight to your eDofE - Website Link: https://edofe.org/Assessor
Participants ID Number: This is your personal eDofE number found on the top left of your screen
Level: Bronze, Silver or Gold
Section you are assessing: Voluntary, Physical, Skill, Expedition, Residential
14/7/20 - Enrolled 116 Year 8 students onto Bronze DofE today! Message below sent via Groupcall:
Students have been enrolled - log in details have been sent to their SCHOOL email address - email me if not received.
Get started as soon as possible. REMEMBER, if you get your Voluntary, Physical and Skill section completed by 31st December 2020, you will receive your accreditation certificate. You must finish two of your three sections by this date, in order to attend the expedition training in January 2020.
Make the most of lockdown and the summer holidays to get a headstart. Please ask if you are stuck with an activity, but DO NOT wait until September, in the hope that an activity will commence. The reason for enrolling you early is to do the activities from home: https://www.dofe.org/dofewithadifference/activities
When you first log in - fill in the personal details and then set timescales. Then you add the information onto your planners for V, P & S. Send to "Julie Wood" to approve.
Check your eDofE two days later to check that there are not any messages in red for you to read.
Record what you do on the 3 activity logs - parents can sign the activity logs, BUT CANNOT be your assessor. You can put a coach, teacher, tutor, neighbour down as your assessor.
Check out the DofE Mobile App, which is very useful: https://www.dofe.org/app/
Students can upload photos/evidence to eDofE and ask me to approve.
Once the students have completed their 3 or 6 month activities, they send their activity log, photos and assessors report link to their assessor to fill in their report online and it goes straight to the student's eDofE area.
In these unusual circumstances, DofE are not sending out the participant pack to students, check out: https://www.dofe.org/welcome-packs-dth/ - you will also find a voucher for discount clothing/equipment for when you go on your expedition.
We are aiming to do the expedition Spring/Summer 2021, however we will send out the details in due course. Expedition training will start January 2021, Friday 3pm - 4.30pm.
The Year 8 students have been given an amazing opportunity to start their Bronze DofE early - we are very optimistic that this is the right move and you will achieve great things. Please remember that there is help and support available, even during the summer holidays! If you are not sure about anything, please message on eDofE, SMH or email me.
1/7/20 - Results from Questionnaire set on SMH - groupcalled to parents:
Please thank the students for doing this as it really did help me to see where they stand with their DofE, during lockdown. Obviously due to Covid-19, the clubs and organisations are not running, so different activities are required (they can't afford to wait until they start again, as we don't know when this will be):
Many of you are disappointed to be missing the expedition and we understand that this is the highlight of the DofE Award. BUT, we are trying to sort something out, so we would like to encourage you all to get on and finish your activities, whilst staying at home through lockdown. (Don't forget to continue some sort of physical activity in preparation for the expedition when it takes place!)
Parents can sign your activity log, BUT not be your assessor. Please note that your tutor/teachers can be your assessor.
Those who had a problem other than with the voluntary section, I have emailed you on the school email address that you supplied - please check it out and reply if necessary.
Main concern (too many to reply individually to!) is what to do with the Voluntary section - the main activities that students have changed to are: Litterpicking (using gloves/bags and only picking up what is safe to do so), helping elderly neighbours/relatives with jobs/writing letters/online chat, helping younger siblings/cousins with homework/learning, coaching, or reading bedtime stories, if they were helping with youth groups, I would suggest a resource booklet with a Covid-19 front cover and date as this will go down in history and then fill it with interesting facts, activities, craft, cooking, songs, jokes, quotes etc then this can be presented to the organisation when we get back to normal.
It is so much easier to ask the question when a problem arises, rather than leave it until September to sort out as we are not sure when all the clubs and societies are getting back to normal. There are so many activities for all 3 sections that can be done at home: https://www.dofe.org/dofewithadifference/activities - please do ask for help if you need it particularly if nothing on the website appeals.
If you finish all 3 activities by 31st December 2020, then you will receive an accreditation certificate from DofE. Use this as a goal and a good opportunity to make the most of lockdown. https://www.dofe.org/dofewithadifference/achievement-for-all
Assessors report - when the time has been completed, the activity log should be emailed to the assessor along with the following details (filling in the relevant information for your activity):
Website Link: https://edofe.org/Assessor
Participants ID Number: This is your personal eDofE number found on the top left of your screen
Level: Bronze, Silver or Gold
Section you are assessing: Voluntary, Physical, Skill, Expedition, Residential
Well done all of you for persevering with your DofE journey, albeit slightly different than planned. You will feel a great sense of achievement if you can complete your award this year and see a positive thing come out of Covid-19 and lockdown.
I will try not to send messages after 17th July, but will be keeping an eye on eDofE and my emails if you want to check anything - I am hopeful that the students will use the next 3 weeks wisely to get on top of eDofE, so that we can all have a good summer break.
Take care and stay safe.
Mrs Wood - DofEManager@warriner.oxon.sch.uk
26/6/20 - Launch of Bronze DofE to Year 8 students. Communication groupcalled home to parents and placed on the Year 8 Show my Homework Notice Board. Deadline, Tuesday 7th July 2020 and pay via ParentPay. Please see below a promotional video created by one of our DofE Ambassadors (Sorry, trying to get the sound and film to work together, with the help of the website company!):
Website Link: https://edofe.org/Assessor
Participants ID Number: This is your personal eDofE number found on the top left of your screen
Level: Bronze, Silver or Gold
Section you are assessing: Voluntary, Physical, Skill, Expedition, Residential
22/6/20 - Communication via SMH
Task to complete a questionnaire via SMH on how you are finding DofE during lockdown. Next week, I will send communication to give answers to the problems that have arisen. Please complete the questionnaire as this will help to sort out any problems sooner, rather than later. This is for all three levels; Bronze, Silver and Gold.
3/6/20 - Communication via eDofE, SMH and Groupcall Home (Bronze & Silver - see below) - Gold to be encouraged to upload as much evidence as they can and complete sections, so that they just have their expedition/residential section to complete
Task this week: Please log onto eDofE and send me a planner to approve, a photo, or send me a question for help, if you haven't done so already! YOU CAN DO THIS and I am here to support you. Please do not rely on waiting until a club/society starts back to do your activity as we have no idea when this may be - lots of activities to do at home. Please read below as well.
Congratulations on those of you who have asked me to approve your planners with the change of activities and for uploading evidence for me to approve - you are sending some lovely photos - thank you. (If you are happy for a photo to go on the school website/facebook, please email it to me at my email below and I will put them up on Friday). It is really good to see what great activities you have changed to during lockdown. It really is possible to complete your award during lockdown. Complete the three activities before 31st December 2020 and you will receive an accreditation certificate from DofE, which will allow you to move up a level if you wish. PLEASE, PLEASE message me if you are stuck as I can make loads of suggestions of activities for you to do.
PLEASE NOTE: Your parents can sign your activity log, however CANNOT be your assessor, please leave assessor as it was, or use your tutor. Three different assessors for the sections if possible.
Well done and please keep up the good work.
Mrs Wood - j.wood@warriner.oxon.sch.uk
1/6/20 - Volunteers Week 2020 - Thank you to all the DofE leaders at The Warriner School. Video made during lockdown by our 3 DofE ambassadors; Evie, Emma and Jennifer:
21/5/20 - Message below Groupcalled to all the Bronze Students:
How are you all? Hope that you are coping ok during lockdown and managing to enjoy this lovely weather that we are having?
Good news. Although information about the DofE expeditions is not clear at the moment - if you complete all THREE sections (Voluntary, Physical and Skill) before 31st December 2020, you will receive an accreditation certificate from DofE recognising your award. If you want to move onto Silver DofE, this is still possible without having done your expedition at Bronze level - more information to follow.
I would encourage you all to keep going with your activities - asking me to approve your planners if you haven't already, BUT please do keep your activity log up to date. YOUR PARENTS can sign the activity log, BUT CANNOT be your assessor - please use your tutor and teachers at school if you are not sure.
If you want to find out more, please check out: www.dofe.org/dofewithadifference/achievement-for-all
Please do not hesitate to contact me if you want any more help or guidance on what you can or cannot do. The most important thing I would say is to concentrate on finishing your activities, then when we know more about the expeditions we can give you more information on that.
Bye for now - keep up the good work and look forward to hearing from you in due course. Great to see what you are uploading onto eDofE - well done.
Mrs Wood - DofE Manager
13/5/20 - Emphasising to the students to just tick along with their DofE activities if they can.
6/5/20 - Groupcall Messages sent out to Parents of all students doing DofE at The Warriner School. Please email me if you haven't receive it: j.wood@warriner.oxon.sch.uk

5/5/20 -Here are some activities that students have been doing during lockdown.

4/5/20 - Well done everyone for keeping engaged and enthusiastic about your DofE Award.
https://www.dofe.org/dofewithadifference/ - check out ideas on here to replace your original activities on eDofE. Lots of excellent ideas to use.
Some great photos are being uploaded onto eDofE and some nice ones being sent to go on this page at the end of the week. Please keep emailing me photos - great for people to see what you are doing about your activities during lockdown. Just a few points that are coming out from emails and SMH:
PARENTS Cannot be your assessor. If you do not know who to put, please put your tutor down and I will let them know what they have to do in due course. However, your parents can sign your activity log.
I suggest that if you are doing your voluntary section for youth groups: Girlguiding, Scouts, Boys Brigade, Sports Leaders, Dance Leaders etc, that you spend at least 1 hour per week working on a resource booklet for the group when they return. For example, you could research games, activities, readings, quotes, illustrations. That way you can record your 1 hour per week towards your group you are volunteering with. It will be interesting to do, either by computer, or in pen/paper. If you are volunteering for elderly people, neighbours, that is fine or ringing up people. Please make sure that it is not all for your family members - elderly grandparents away from you can count for part of the 1 hour, but we are looking at this to benefit the community/charity. Litterpicking is an excellent volunteering activity and this can benefit from you being out of doors at the same time!
You can change your activity during lockdown and although you can check with me that the activity is right to do, you don't have to change it on eDofE
PLEASE continue to write everything on your activity log, or even document on a sheet of paper, or a diary note on the computer - this will all help to evidence what you have done
As per SMH instructions, please email me photos to put on the school website/facebook page of your activities that you are doing during lockdown - j.wood@warriner.oxon.sch.uk
Please continue to do some sort of physical exercise, in order to prepare you for your expedition
Keep up the work everyone - well done. Take care, stay safe and keep smiling!
Some lovely ideas are coming through on eDofE - thank you for uploading your photos
Check out the above website to give you some ideas if you are stuck during lockdown
Please remember that your parents CANNOT be your assessor, BUT they CAN sign your Activity Log showing what you are doing for your 1 hour per week
No need to amend your planners on eDofE
28/4/20 - Encouraging Students to Engage in DofE during lockdown
Setting tasks for DofE students on Show my Homework and encouraging them to continue to fill in their activity log on a weekly basis. A lot of what the students will be doing during lockdown will be able to count for their DofE activities. Have set Bronze and Silver a challenge to gain house points - check out SMH to find out more!
Remember to keep doing your daily exercise to be physically fit for when the expeditions take place - no details as of yet, but will keep you informed as and when we know more.
Keep positive and just keep ticking over with your DofE award - if you need any help or support, message me on eDofE, or can't get onto eDofE, please email me: j.wood@warriner.oxon.sch.uk
Keep smiling and let's hope the fine weather returns for us all soon :-)
15/4/20 - Ideas for Change of Activities due to Covid-19
All students are able to continue their DofE journey - it will just require a bit of thinking outside of the box! Check out the following link - https://www.dofe.org/dofewithadifference
Staff will be having to find new activities to do whilst the school is closed, as well as continuing to enthuse and encourage the students to continue with their school work and DofE - please check out Show My Homework (SMH), as that is the way that I am communicating with the DofE students. Please remember to document what you do - can be 1 x 1 hour, 2 x 30 mins, or even 3 x 20 mins. Your parents can sign your activity log, but please leave your original assessor to assess you at the end of your activity. (Family members cannot assess your activities)
For example - the activities that I could use for my DofE journey are as follows:
Voluntary - supporting my village group and baking cakes for the NHS workers to be delivered by the group and making phone calls to check on elderly people/neighbours. (If you were planning to help with a youth group, you could prepare a resource booklet, including games, activities, readings, with pictures - this could be done on the computer or by pen/paper and will be very useful for the group to use when we return to normal).
Physical - doing PE with Joe Wicks every day, doing a walk, or fitness in the garden - lots of workouts on YouTube to follow. Please remember that any exercise will prepare you well for your expedition when we return to school.
Skill - I have started my knitting and cross stitch again. I am also reading books that have been sat on the bookshelf for a long time! We are also cooking recipes using the food that we have in our cupboard - a bit like Ready Steady Cook! (You could learn a language/sign language, learn how to play the guitar, or learn how to do some gardening! Check out the [/schoolclosureactivities]School Closure Activity section on the school website for other ideas)
Please do email me if you have a problem with an activity to choose: j.wood@warriner.oxon.sch.uk
Most importantly of all - you can all use this extra time wisely for your DofE and so when we return to school, you will just need to prepare for your expedition section. Remember also, that there are a huge amount of young people who are in exactly the same situation as you - the staff are very keen to continue to support you even though you are not at school.
2/4/20 - Message sent to students via eDofE
Hi All
Well done for anything that you have done for your DofE. Please note, you do not have to change activity on eDofE and ask me to approve it. Just please make sure that it is a Voluntary, Physical or Skill activity. Please message me if you are not sure. You must keep recording on your activity log - continuing the one that you have already started. one activity log per section.
Your parents cannot be your assessor, but they can sign your activity log.
When you have finished the required time, your assessor will see your activity log with your detailed activities on and sign your report.
Please message me if you do not understand or email me on: j.wood@warriner.oxon.sch.uk
Well done.
Mrs Wood
27/3/20 - Email sent to parents of students on B, S & G
Well, we have almost come to the end of our first week in isolation, keeping social distancing in mind at all times! It is difficult for us all, but we are trying to keep positive and keep you motivated through this difficult time.
Last Friday, I sent out an email via Groupcall, but have since had several students message me to ask what to do now they can't get to their activities. Please can you make sure that you forward this email to the students and say that I am also keeping the Enrichment/Duke of Edinburgh page on the website up to date with everything that I am emailing out. I am also sending the students messages via eDofE, so they need to access this on a weekly basis to read what I am saying, if they can. I can see that a number of students haven't accessed eDofE yet. Please could you encourage them to look at it perhaps next week - I can help them as much as possible from home. I release that this is only the first week and don't want to overload you all.
Please try and keep positive. I can see (myself) from being isolated at home for this week, it is not that easy to find replacements for our normal every day lives. But, the things that I have been doing are:
PE with Joe Wicks, live every day at 9am on YouTube. If you only do 2 sessions out of Monday-Friday, that would count for your Physical section. This is great fun and will be good preparation for your expedition.
I have been contacting people - either ringing, writing cards, emailing, texting to check if they are ok - these are mostly older people, but also others that I think would lift their spirits to have contact from outside of their house. This would count for Voluntary section.
Cooking - we have been experimenting with the ingredients that we have in our cupboard. This has been exciting and a family task! This is an ideal activity for your skill section. You could write up a recipe book of what you have made - your assessor will enjoy looking at this.
You do not have to ask me to change your activity if you have already uploaded the planner onto eDofE. Please just list what you are doing on your activity log/sheet of paper with section at the top (a separate one for each section). Put the date and (CV) next to it for CoronaVirus. You can get a parent to sign the sheet. Then at the end of the time you can show your activity log to the assessor and discuss what you have done and it should be fine for them to sign it. PLEASE make sure that the activity you are doing fits in with the right category of Voluntary, Physical or Skill. Please check with me if necessary.
We are all going to need to fill our days up and perhaps the ideas that I sent out last week, may be interesting for you to do. Please note that all communication that I am sending home will go onto the school website / Enrichment / Duke of Edinburgh - with the most recent at the top, so that you are kept in the loop and can refer back easily.
Bye for now - I won't be bombarding you with emails, but perhaps every couple of weeks to parents, but if you can let the students know that I will send them a message via eDofE weekly, so they can check them to see what I am suggesting. Remember, you are not alone, having your DofE journey interrupted - we will get through this and what a great sense of achievement it will be, especially if you have had to change your original plans.
Take care and stay safe.
Mrs Wood - j.wood@warriner.oxon.sch.uk
20/3/20 - Email sent to all students on B, S & G
Many thanks for being so patient with us over the uncertainty caused by the developing Covid-19 outbreak. A difficult situation for us all, but we will endeavour to ensure that your daughter gets the best possible help and support through their DofE journey.
As of 3pm on Friday, in line with "Social Distancing" the School will be closed to all but a few pupils designated by the Government, so expedition training is suspended until the controls are relaxed and School reopens. It is likely that the June expedition will have to be postponed, but we will keep you posted on this. Please be assured that we will continue to monitor Government and National DofE guidance and as soon as we are able to, we will restart the expedition section of the DofE Award.
Activities for the Volunteering, Physical and Skills section can still continue from home for participants - I know that this is a concern for many and we appreciate this - students can decide to do something else on a one hour per week basis (can be broken down to smaller segments). Please make sure that it is in the same Physical, Skill, Voluntary category - you can check this on the eDofE site, or message me. They should log this on their activity log with the date and CV (Corona Virus) next to it; this will help when the assessor comes to do the report at the end of the required time for the activity. We have collated a list for you below which may be of help. Particularly for volunteering, please contact your assessor as the club/organisation that you help with, they may have an idea of what you can do in preparation for returning to them when we have the go ahead!
Physical and of course preparation for your Expedition
Walking
Running
Home based Youtube sports activities - such as yoga, pilates, HIIT classes
Cycling
Skills
Cooking
Baking
St John's Ambulance First Aid resource- https://www.sja.org.uk/globalassets/documents/dofe/dofeselfteachworkbook.pdf
Duolingo app for learning a language
Learning sign language
Gardening
Reading
Boardgames
Card Games
Volunteering
Instead of going into the care home - give them a call or create post cards to send
Fundraise/raise awareness of the Coronavirus
Checking on elderly neighbours - leaving care packages at their door
Ramblers - Don't lose your way - https://dontloseyourway.ramblers.org.uk/
Litter picking in their local countryside - not in contact with others
Missing maps - https://www.missingmaps.org/
Parkinsons charity - https://www.100forparkinsons.com/the-project
Recording wildlife helping conservation - https://www.thesubath.com/volunteer/virtualvolunteering/
Cancer research charity - https://www.cancerresearchuk.org/get-involved/citizen-science
Girlguiding/Scouting/Boys Brigade - build up a book of games/songs/activities/readings, which will be useful for the unit to use at a later date - you can research different ideas and do some illustrations too. Check with the leaders as they may have an idea too.
Please download the DofE app to your mobile to continue with your DofE awards, as this is certainly the way to go and an easy way to check out what you are doing? You can also have a check out of the other information on the DofE website.
Lastly, please remember that communication is very important during this unprecedented situation - the best way to communicate with me is through eDofE where you can message me, or you can email me on my school email address: j.wood@warriner.oxon.sch.uk - please do let me know if you are stuck as to how to proceed. I will be sending a weekly message via eDofE to you all - please do check your messages.
You are not alone here - there are many young people who have had their DofE journey change direction, this situation may make you think slightly outside of the box but your ultimate goal of achieving the award is still very much possible and you will do it!
Take care and stay safe.
Mrs Wood & The DofE Team at The Warriner School
Any enquiries, please email: Mrs J Wood (DofE Manager)
Duke of Edinburgh Award at The Warriner