The academic progress of our students is communicated through Subject Consultation Evenings, Academic Tutoring discussions and formally every term through our reporting system.
Since Autumn 2015 we have used a data system called 'GO 4 Schools'. This programme enables immediate analysis of students' attainment and progress towards targets.
Using GO 4 Schools you are now able to access your child's termly report online.
GO 4 Schools is an online package that allows you to access your child's academic achievement and progress data in real time in addition to other information the school holds about your child.
How to log onto GO 4 Schools to access your child's report:
In order to log onto GO 4 Schools you need to visit www.go4schools.com and click on the 'Parents' icon in the top right hand side.
Enter your email address into the 'First-time User' section and click 'send me a password'. This must be the email address that you have registered with the school. GO 4 Schools will then send you a password directly to the inbox of your registered email address.
Upon receipt of the password enter your email and new password into the top two boxes of the log in page to gain access to the system.
You will then be taken to a page where you click on your child's name. If you have more than one child at the school, you will be able to view all of their names and select the one you wish to view.
At the top of the next page is some 'At a Glance' information. Scroll down to the 'Progress and Reports' section and click on the date of the most recent report.
An example of a report is shown below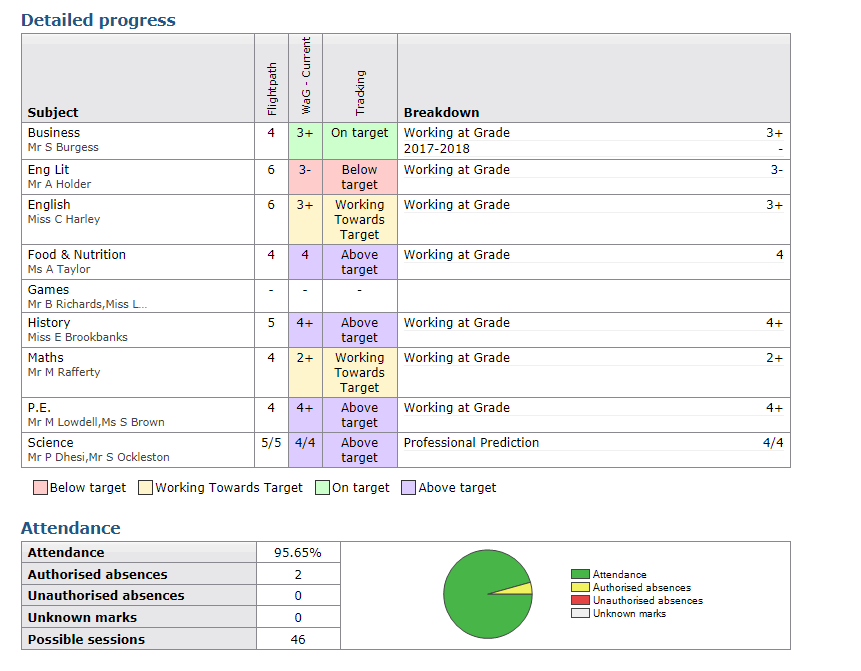 Progress against targets:
Reports show the student's Flight Path, a working-at grade and an expected working-at grade for each subject. These two numbers are then compared and cells are coloured depending on how well a student is doing with respect to expected progress.
The expected working at grades are based on a linear progression from the end of Year 6 to the end of Year 11 and we understand that this is a very simple model and may not always be accurate. As a result there will be students who appear to be not at their target grade at a given time but this does not necessarily mean that they will not make any lost ground as time goes on. This is not usually a cause for concern, especially in Year 7.
If students are 'below target' however, then it may be appropriate that a discussion takes place with the subject teacher to ascertain the reasons for this.
Attitude to Learning and Homework Judgements:
Outstanding: The student is doing everything they can to achieve their potential.
Good: The student is working well and has a positive attitude to their work.
Requires Improvement: There needs to be a change in attitude towards work, and the student is at significant risk of underachieving.
Intervention Required: The student's attitude to their learning is poor and they need adult intervention and supervision to achieve anything.
In the event of a subject specific issue or concern, the subject teacher or subject leader should be contacted. If there are wider concerns across a range of subjects then the tutor is a more appropriate first contact point. Visit our 'Contact Us' page for staff email addresses.