Uniform
The Warriner School Uniform
Click for important information from our uniform supplier Cross Embroidery, which is open by appointment only. Those customers who know their sizes can order via click and collect. They ask customers not to turn up without an appointment or collection instructions.
Click here to go to our information on Second Hand Uniform.
Sixth Form
Year 12 and 13 students are required to wear business dress. Boys should be in a suit and tie. Girls should wear tailored clothing suitable for a professional office. Click here for the full Sixth Form code of conduct, including dress code.
Years 7-11
The Warriner blazer*
Black v-neck Warriner jumper*. Optional item; must only be worn with a blazer.
Plain black leather shoes. No trainers, plimsolls or boots.
Plain white shirt or blouse. Tucked into the trousers/skirt. Top button done up.
Warriner house tie*. A minimum of 7 stripes must be visible below the tie knot.

From September 2022 all students in Year 7 are required to wear a house tie.
Students in Years 8-11 who do not wear a tie must wear a plain white revere collar blouse. Top button done up.

Either:

Plain black pleated skirt*. Hems must be a maximum of 10cm above the knee.
Plain black opaque or flesh coloured tights. Optional item; no knee-length socks or footless tights/leggings.

Or:

Plain black trousers. Regular or Slim fit (not skinny fit). Denim or corduroy trousers are not permitted.
Black belt. Optional item; must fit a standard belt loop and have a plain buckle.
Additional Uniform Rules
Students will be expected to wear their blazer as follows:
To and from school.
To and from lessons.
At morning break.
In the school restaurant.
Students may remove their blazers during lessons and at lunchtime.
In addition:
Students may wear a maximum of one small studded earring in each ear lobe.
No other piercings allowed; discreet, clear retainers only.
No other jewellery is allowed.
Make-up (including nail varnish) must not be worn by students in Years 7, 8 or 9. Discreet make-up is acceptable for older students (clear/neutral nail varnish only). Long, false nails or eyelashes are not permitted.
Outer coats should be plain, one colour and preferably dark. Denim jackets and hoodies are not permitted.
Plain scarves may be worn to and from school.
Garments worn under shirts/blouses must be plain white.
Any variations in uniform appropriate to different faiths should be black.
Students may wear uniform appropriate to the gender with which they identify.
Hairstyles deemed inappropriate for school are not permitted. Any hair colouring should be in natural shades only.
The Head of School will be the final arbiter on uniform issues.
*Blazers, jumpers, ties and skirts must be sourced from the school's supplier: Cross Embroidery or from our second hand uniform shop.
Summer Uniform Variations
The Headteacher may permit students to stop wearing their blazers on a particular day.
PE Kit
Compulsory Sportswear:
Option 1:
White Shirt with gold band
White shorts
Pale blue socks
Indoor ankle sock - plain white
Trainers
Football/rugby boots
Swimming Trunks/shorts - any colour (above knee and not Bermuda style)
Shower towel
Option 2:
Blue polo t-shirt with Warriner logo*
Pale blue socks
Navy blue shorts
Trainers
Hockey/football boots
One-piece swimsuit
Shower towel
Optional Extras:
Athletics vest: white with yellow band and school logo*
Dark blue sweatshirt with school logo*
Tracksuit bottoms with school logo*
Waterproof top with school logo*
Variations appropriate to faith MUST adhere to the above options.
Each individual item must be clearly marked with the student's name.
Cross Embroidery
Unit 3, Darler Court
Thorpe Way
Banbury
Oxfordshire OX16 4TH
United Kingdom
Tel: 01295 270555
http://www.crossembroidery.com/
Second Hand Uniform
During term time please contact Mrs Ball on Reception, for enquiries about second hand uniform. At other times please get in touch with Mrs Burch, Assistant Headteacher.
We welcome donations of good quality second hand uniform (donated skirts should be the pleated style only) and these can be dropped off at Reception. Please wash items before donating. Any monies received for second hand uniform items are used to support current fundraising projects.
All items are 50p or £1, with blazers at £5. We accept cash or cheques.
We have a particular abundance of boys shirts and trousers - all good brands - so do please think of purchasing these from us too rather than from high street stores. Whilst we introduced a new logo in 2019 we are still happy for students to wear items with the old logo if there is life in the clothes!
Come and grab a bargain! #secondhanduniform #preloved #sustainability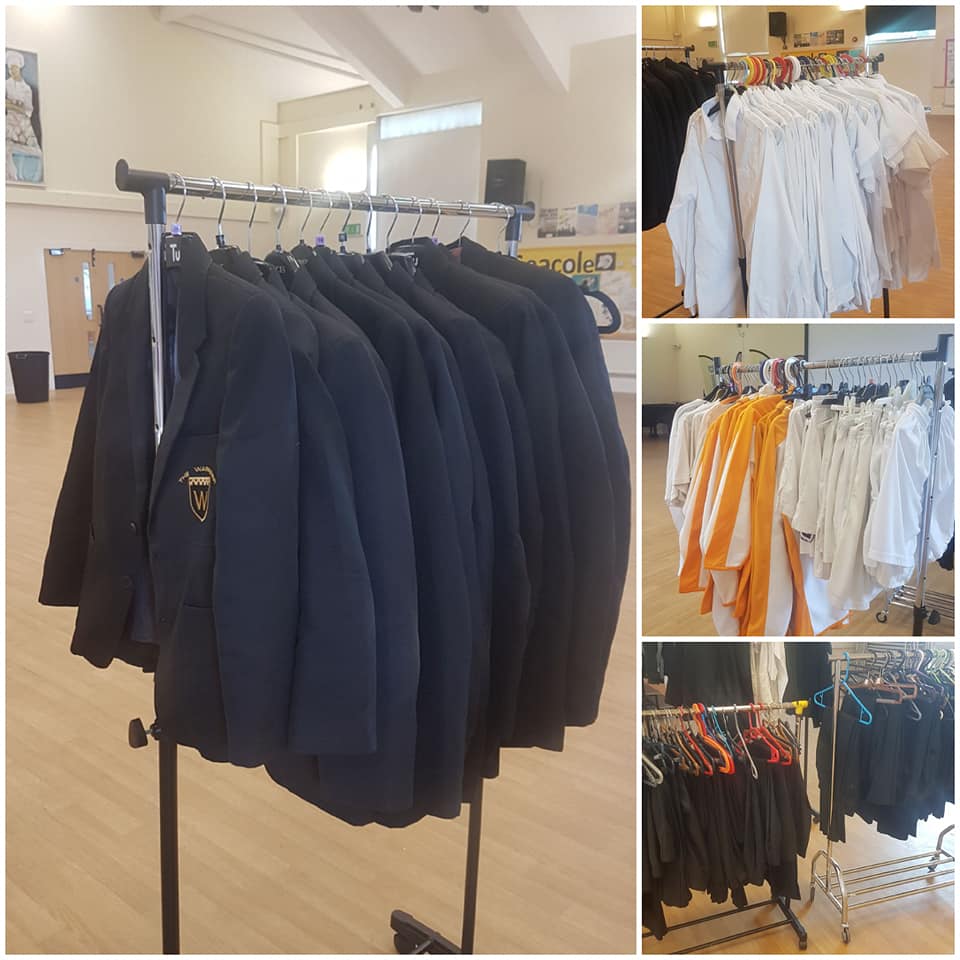 Additionally, Banbury Uniform Exchange, based at Hanwell Fields Community Centre receives and distributes second-hand uniform free of charge. Click on the link or find them on Facebook to find out more.