Exciting new addition to the Music Department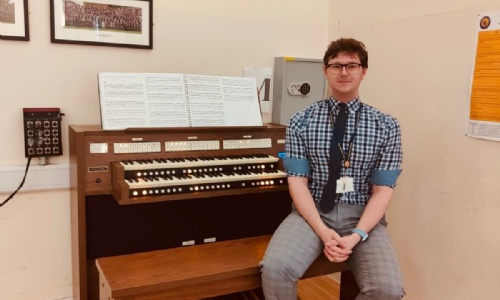 Organ News - The Warriner School has become one of the very first schools in the UK to receive an electronic church organ from Viscount Organs as part of the Royal College of Organists (RCO) new scheme to give state schools the opportunity of being able to provide pupils to learn the organ.
The RCO - The College was established in 1864 by Richard Limpus and later achieved Royal status under Edmund Turpin, becoming the Royal College of Organists. The College's primary goal was/is to raise standards in the organ profession by developing and administering prestigious examinations, critical to becoming a well-rounded organist. These activities were augmented in the 1990s with a new education and outreach strand; work which has since grown into what is known today as the RCO Academy programme. Together, RCO Academy, the College examinations and accreditations, the library and other activities help ensure that the College continues to maintain the mission established by the founders all those years ago. During recent years, the RCO under the direction of Sir Andrew Parmley established a new scheme whereby the RCO and RCO Foundation would donate electronic church organs to state schools who have the facility to give lessons to budding young organists.
Our new Teacher of Music (Mr Dylan McCaig) entered into the scheme in early 2022 and has thus made The Warriner School one of the very first recipients of this incredible scheme!
Dylan McCaig - In July 2022, The Warriner School welcomed the arrival of Mr Dylan McCaig, who possesses an Associateship of the Royal College of Organists (ARCO) and whose background was previously in Cathedral Music. Dylan began his career in music at the Liverpool Metropolitan Cathedral where he was a chorister, and later earned rank of Head Chorister and Junior Organ Scholar at the age of 16. Dylan is a graduate of the Royal Birmingham Conservatoire where he studied for a BMus (Hons) degree in Organ Performance. During his degree, he was appointed Organ Scholar of St Chad's Cathedral, Birmingham and became Senior Organ Scholar of Liverpool Cathedral upon graduating. Dylan has a passion for baroque which has created opportunities for him to work with EMAE, ELN and organise large scale projects with his baroque instrumental and vocal ensembles at various UK Cathedrals.
Alongside his professional music commitments outside of school, Dylan also teaches piano and will now be leading this new venture as our school's resident organist, with The Warriner School now being able to offer pupils organ lessons on our new instrument!