The Warriner Santa Fun Runs for KHH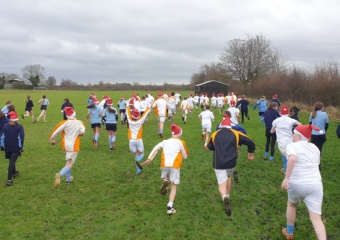 This week our students donned Santa hats and took part in the inaugural Warriner Santa Run in aid of Katharine House Hospice.
The PE department found it a complete pleasure to organise this event for students from Year 7 to Year 13 who - whether they were faced with sunshine or rain - took part with enthusiasm. Students and their families as well as staff made donations towards the Katharine House Hospice Virtual Santa Run fundraiser; at the time of writing the total stands at £2871.59! Donations may still be made via ParentPay if wished.
We are so proud of everyone in school who supported this first ever Santa Fun Run in aid of such a special community resource.