Drama
Welcome to the Drama Department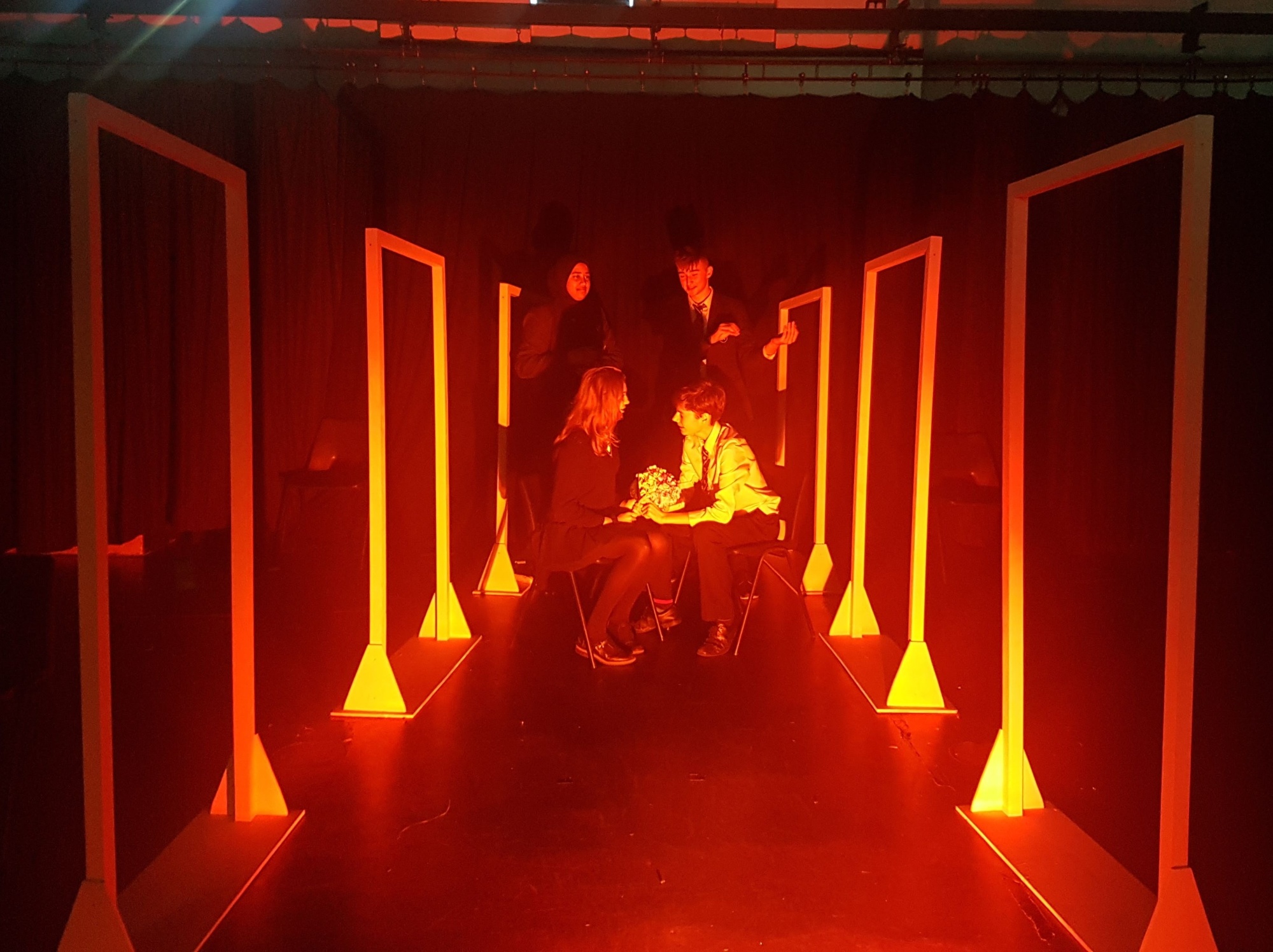 Introduction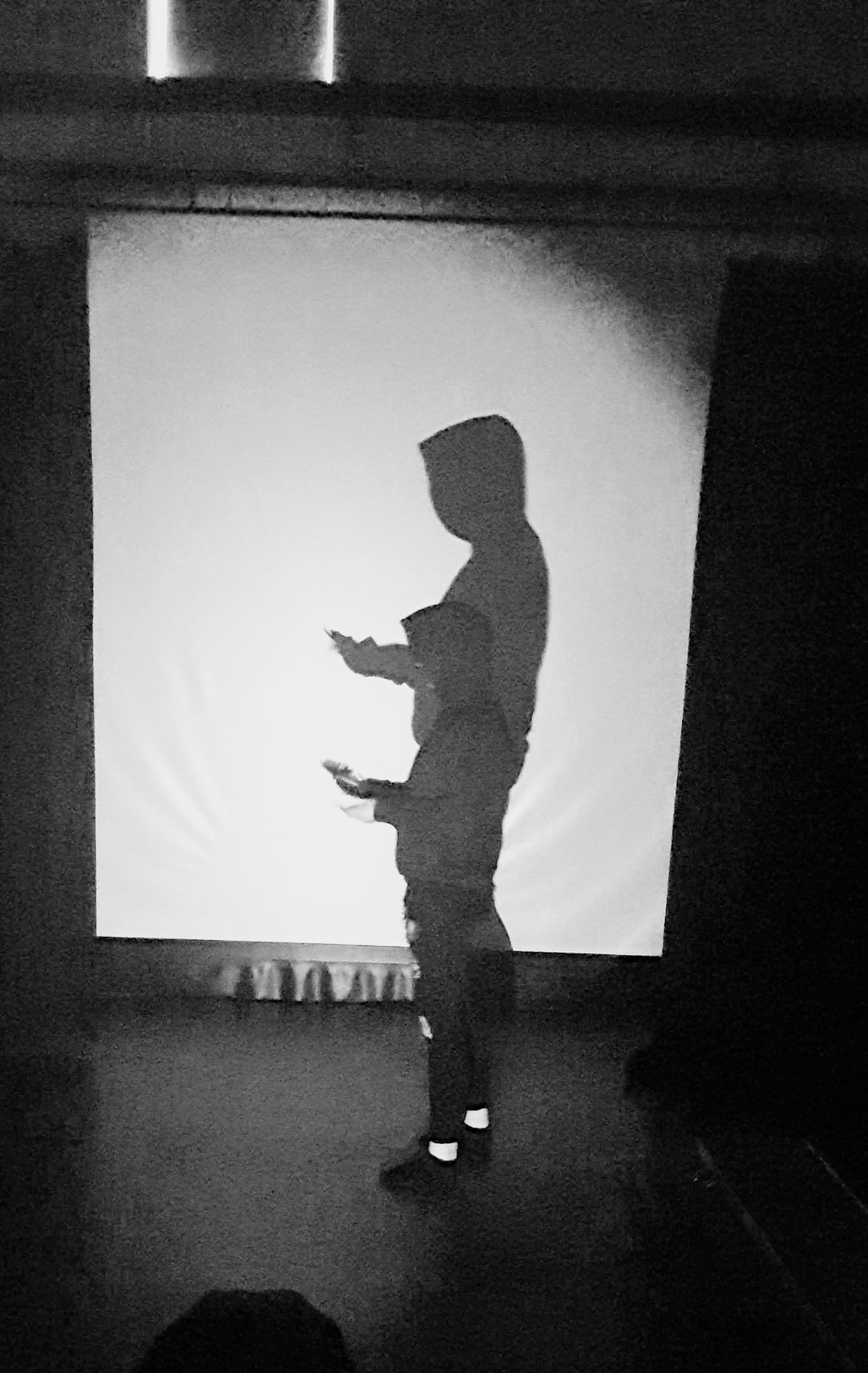 Our intention is to nurture an enjoyment and understanding of Drama through practical experience and to develop both subject specific and transferrable skills that empower students and provide cultural capital.
We focus on encouraging teamwork, creativity, reflection and communication. We aim to engage students and build confidence in a safe and inclusive environment. We aim to develop individuality; to encourage students to think and express themselves with flair and to encourage tolerance and understanding.
Students are given opportunities through teacher led workshops, explorative strategies and scripted drama activities to experience the world around them and consider situations from more than one perspective.
Vocabulary will be taught, implemented and consolidated in line with The Warriner MAT Strategy alongside specific department strategies.
We incorporate peer mentoring, live theatre experiences, outside practitioners and student led/alumni workshops for all our year groups. All of our students will have the opportunity to experience live theatre at least once in their time at The Warriner School.
We passionately believe that the teaching style within the department should be organic and this is reflected in our schemes of work and planning of lessons; we are responsive to the needs of our students and to the ever changing world around us and the delivery of the drama curriculum reflects this.
Throughout our 7 year curriculum students will be introduced to Drama Skills (Elements of Drama), Explorative Strategies and Drama Medium in line with the demands of the GCSE and A Level specifications. These will be embedded throughout KS3, KS4 & KS5, but will be applied with varying levels of competency as students' progress through our courses.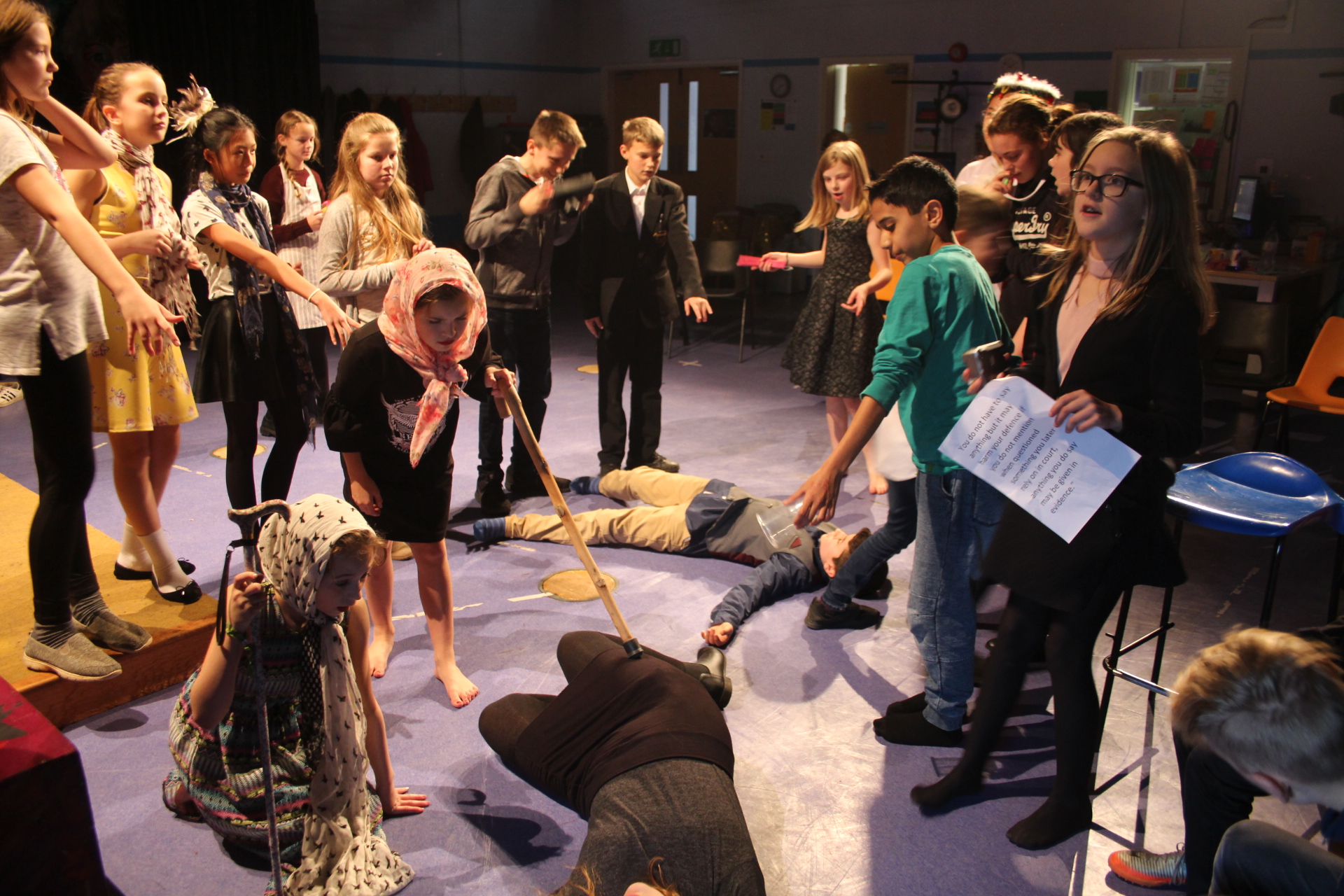 Drama Ladder of Progression:
Year 7- Enjoy
Year 8 – Introduce
Year 9 - Experiment
KS4 - Consolidate
KS5 – Master
Drama skills incorporated into our curriculum:
Confidence & Communication - A command over their vocal and physical skills to allow them to approach a wide range of public speaking with confidence
Concentration - Working on intricate projects over extended periods of time
Empathy & sensitivity - Understanding the viewpoints and emotions of a range of characters
Co-operation & team-work skills - Getting the best out of each other when striving towards a common goal
Commitment & self-discipline - Encouraged and helped to excel when challenged, developing resilience and grit
Creativity - An understanding of the benefits of participation in the arts, performance and creativity during their time with us at The Warriner School and throughout their lives.
Evaluation & appreciation - An appreciation of the ways in which playwrights achieve their effects and communicate their intentions to an audience and an ability to evaluate their own and others' work.
We hope that all our students enjoy Drama and are inspired by the curriculum and our results, uptake, reputation and parental/student feedback reflects this year by year.
Our Curriculum Implementation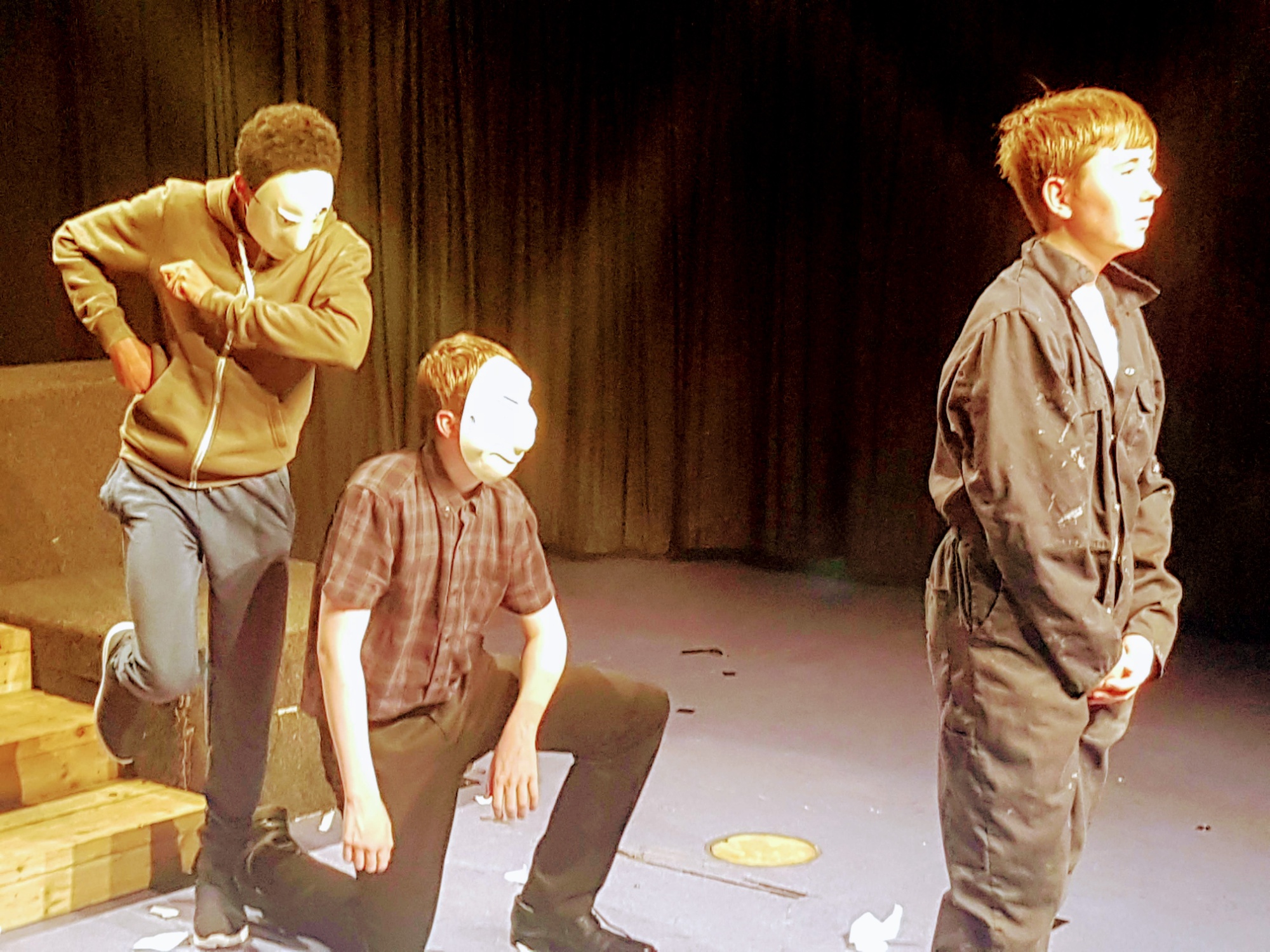 Key Stage 3
Drama is a life skill and a creative art form. It helps students develop their ability to use voice, movement, gesture and facial expression, within a range of practical role playing activities. Through Drama, young people are given opportunities to express and manage their thoughts and feelings, responding to a wide range of issues and situations. Students are encouraged to work collaboratively whilst participating in a variety of shared experiences.
Students work in a safe and controlled environment where they can respond to, express and explore ideas and concepts that will help them to make sense of the world we live in. The development of these skills encourages self-confidence and self-awareness. It promotes the development of the individual in a group context: roles and ideas are negotiated, problems solved and decisions made together. Drama often leads to a performance and creates opportunities for students to demonstrate their understanding as well as promoting deeper levels of analysis, as they evaluate the work of others.
Drama is a subject that helps to develop transferable skills such as negotiation, resilience, team work, cooperation, self-confidence and public speaking. During KS3, students explore both factual and fictional texts that help to broaden their understanding of different social, cultural, moral and historical contexts and situations.
The Drama department is a busy and exciting area of The Warriner School and all students help to shape the work that happens. We offer many Drama opportunities for our students to extend their learning and enjoyment of drama beyond the classroom, ranging from whole school productions, drama workshops, theatre visits, drama clubs as well as hosting visiting theatre practitioners and performers to come into school to work with our students.
Key Stage 4
What is GCSE Drama about?
During this course, pupils will develop and apply knowledge and understanding when making, performing and responding to drama.
You will explore performance texts, understanding their social, cultural and historical context including the theatrical conventions of the period in which they were created while developing a range of theatrical skills and applying them to create performances.
There will be opportunities to work collaboratively to generate, develop and communicate ideas as well as contribute as an individual to a theatrical performance.
ASSESSMENT TASKS
COMPONENT 1: Devising Theatre (AO1: 30 marks; AO2: 15 marks; AO4: 15 marks)– 40%
Controlled Assessment, internally assessed; externally moderated
Task 1 Devising Theatre
You will devise a piece of original theatre in response to a stimulus, using either the techniques of an influential theatre practitioner or the characteristics of a genre of drama.
You must produce a portfolio of supporting evidence which demonstrates the research, creation and development of ideas.
Task 2: Realising Theatre
You will be assessed on your practical performance skills or realisation of your design skill in performance, interacting with other performers and/or the audience for a minimum of five minutes.
Task 3: Evaluating Theatre
You will complete a written evaluation of the practical work completed in Task Two, under formal supervision.
COMPONENT 2: Performance from a Text (AO2: 60 MARKS) – 20%
Externally assessed by a visiting examiner (Where appropriate)
You will be assessed on either your acting or a theatre design skill, in a performance of two key scenes or extracts from a published play.
COMPONENT 3: Written Examination - 90 minutes (60 marks) – 40%
You will be assessed on your ability to analyse one set performance text as an actor, designer and director and to evaluate a live performance they have seen as part of the course. It is expected that you attend at least two performances over the duration of the course (WHERE POSSIBLE) ; however it is recommended that you attend the theatre as often as they can
What will the lessons be like?
The lessons will almost all be practical sessions, though you will be expected to make notes in lessons and complete some written homework. There will be regular evaluations of work taking place and written into your folders. All practical lessons take place in the dedicated Drama studio. You will have 5 hours of Drama in your 2 week timetable
What will this course prepare me for?
After you have completed GCSE Drama, you can go on to higher study such as;
GCE Drama and Theatre Studies at AS and A level
BTEC National Performing Arts
A range of career choices which require you to have confidence, work well with others and communicate well with people.
All employers need to see confidence, communication and independent thinking from all of their employees. Drama will give you the necessary skills to stand out in an interview for a job in any sector.
"Imagination is more important than knowledge." Albert Einstein
Other Information
We offer many extra-curricular opportunities. For example, we produce school productions that are open to all. If performing is not your thing, you might be interested in a technical (lighting, sound, costume or make-up), stage management or marketing role.