English
Welcome to the English Department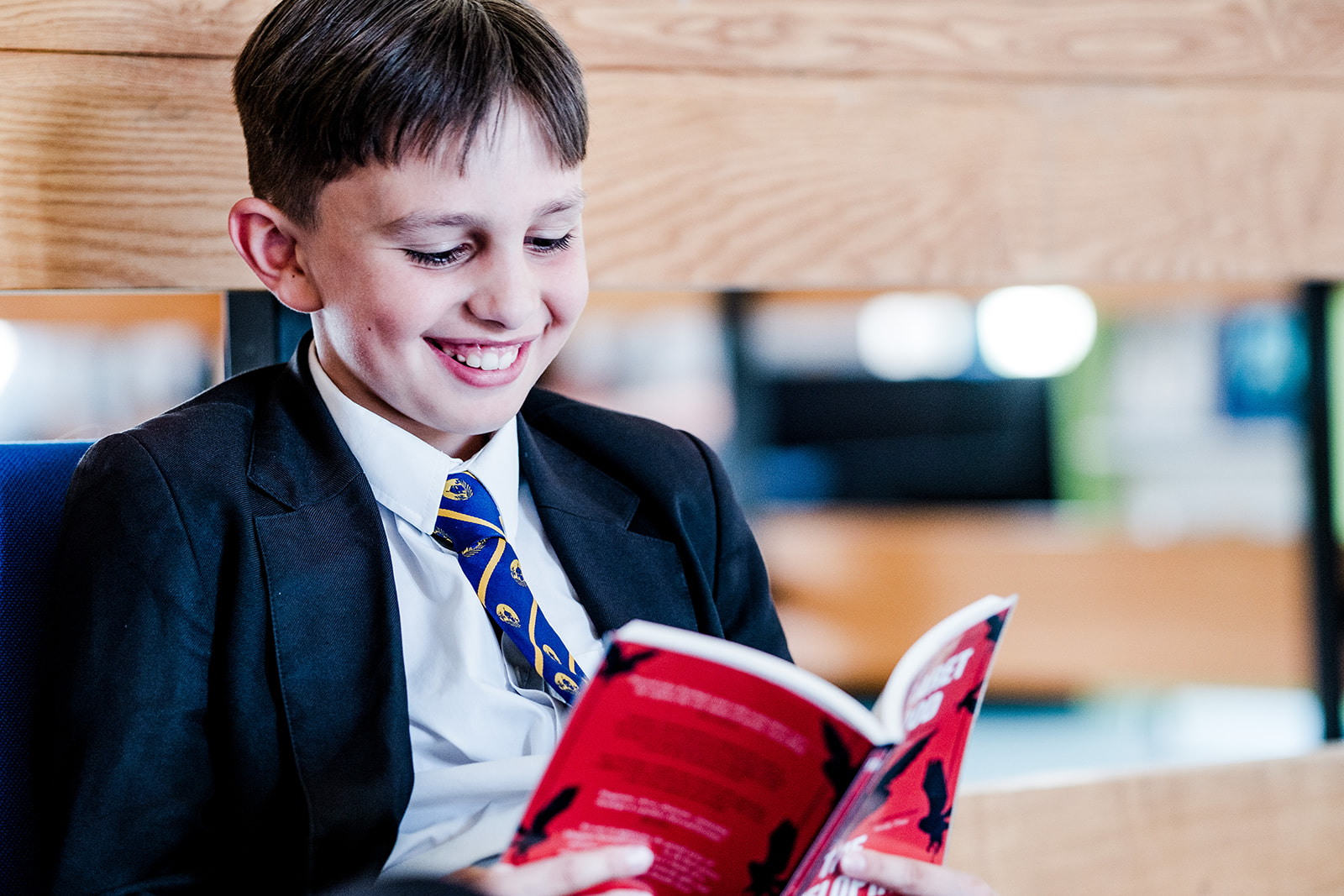 Introduction
The overall intent of the English Department is to provide a wide-ranging, stimulating and challenging curriculum that not only prepares the students for their mandatory examinations but that also fosters a life-long love of Literature and communication. Its purpose is not only to meet the statutory requirements connected with reading and writing but also offer students a cultural lens to look at the wider world. Our rationale for selection of set texts is determined by our desire to encourage the students to view the world beyond their own life experiences. Cultural capital & social diversity is at the root of our curriculum.
At Key Stage 3, we look to build upon the important work of our primary colleagues whilst also offering a smooth transition to secondary education. Mixed-attainment classes have been implemented in Years 7-9 where students become masters of their own level of challenge. What is more, expanded success criteria is used to facilitate challenge and support for all students, regardless of prior attainment.
As our students make the transition from Key Stage 3 to their GCSE courses, and eventually A-Levels, there is a deliberate acquisition of skills, with each year following a specific theme and building on the knowledge that has been gained previously. Furthermore, throughout their English journey towards public examinations, students are encouraged to partake in Thinking Hard activities to foster creativity and independence. These run alongside Active Recall tasks to stimulate memory of previous learning. Consequently, the Department's ethos is to set high expectations in order for our students to achieve the very best they can. This includes empowering students to reach high standards of communication which is refined through the explicit teaching of Tier 2 and Tier 3 vocabulary.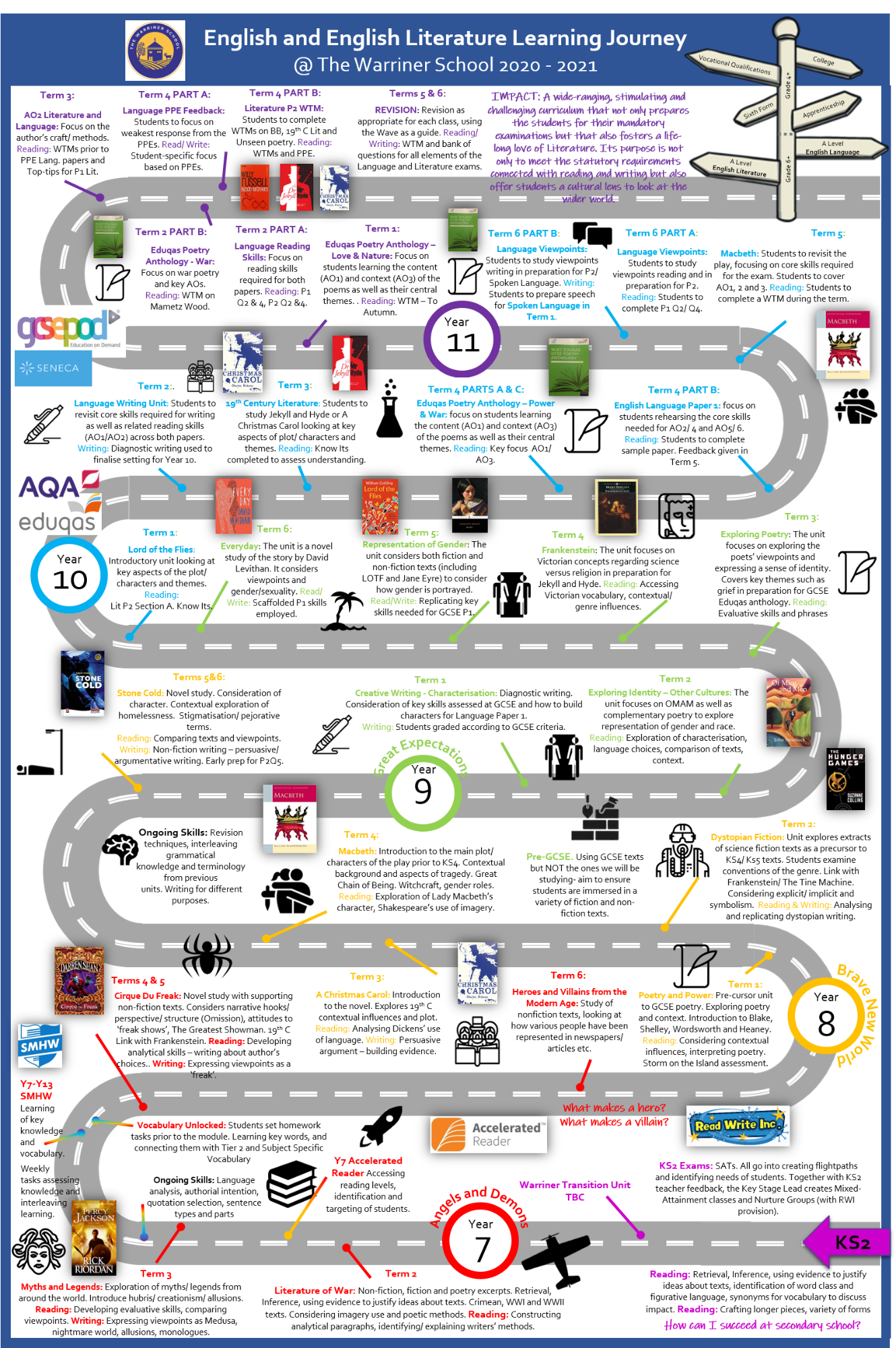 Key Stage 3
During KS3, our students are welcomed into mixed-attainment classes, enabling them to acquire essential skills to support them throughout their GCSEs and future endeavours.
Our KS3 curriculum offers our students the opportunity to study a wide range of texts including The Hunger Games, Cirque du Freak, Frankenstein, Macbeth and a wide selection of poetry. We aim to increase students' cultural awareness through the exploration of identity in its varying forms along with recognition of narrative voice and the effect on us as readers.
Pupils are encouraged to craft their own writing through use of new and challenging vocabulary, developing awareness of purpose, audience and form. They also have the opportunity to study a wide variety of non-fiction texts as well as learning about writing from other cultures.
We prioritise development of oracy and critical thinking. Debate and discussion are essential across all of KS3 as students gain confidence in developing their communication skills.
Our extra-curricular provision is carefully selected to ensure that theatre trips, creative writing / poetry competitions and our writing club all offer opportunities for academic and personal development. In addition to this, throughout Years 7 & 8, students have the opportunity to establish a personal relationship with literature during our fortnightly library lessons.
Key Stage 4
Key Stage 5
The curriculum at KS5 aims to extend students' prior learning by focusing on students challenging the texts, and consequently world, around them. The specifications taught enable students to develop the skills they have acquired at GCSE and engage creatively, and confidently, with a range of topics. At KS5, we offer both English Language (AQA) and English Literature B (AQA) at A Level.
The English Language course encourages students to progress from their GCSE studies by developing their study of English in its various forms. A large proportion of the course focuses on analysing the methods used by text producers, a skill which underpins the basis of their linguistic studies. Throughout the course, students will encounter a wide range of texts, analysing data and writing discursive essays. The course also offers independent elements which allow for creativity, such as the original writing and the investigative non-examined assessment in which students can choose their own area of linguistics to research.
The Literature B course offers a clear progression from students' Literature studies at GCSE, building upon their prior knowledge of aspects of tragedy and understanding of the dramatic form. On the Literature B course, the exams are divided into two topics: Aspects of Tragedy and Elements of Political and Social Protest Writing. The progression from GCSE ensures that students analyse texts critically, using a number of critical lenses to inform interpretations of texts. These include: Feminism, Marxism and Post-Colonial theory to name a few. Students are encouraged to read widely to support their understanding of core texts, context and their independent non-examined assessments. One takes the form of a traditional discursive essay, in which students can choose their own prose text. The other piece lends itself to our pupils' creative abilities, in which they find a narrative gap within a series of poetry and write creatively from a character's perspective.
Other Information
Additional English Support: Thursdays after school – 3.15-4.15pm, by invitation.
Theatre trips
Book club - Library
Writer in Residence/Creative Writing Club: Philip Davies
Please click on the links below for revision materials:
Year 11 Language
Romeo and Juliet
Language Top Tips