Welcome to the Art and Design Department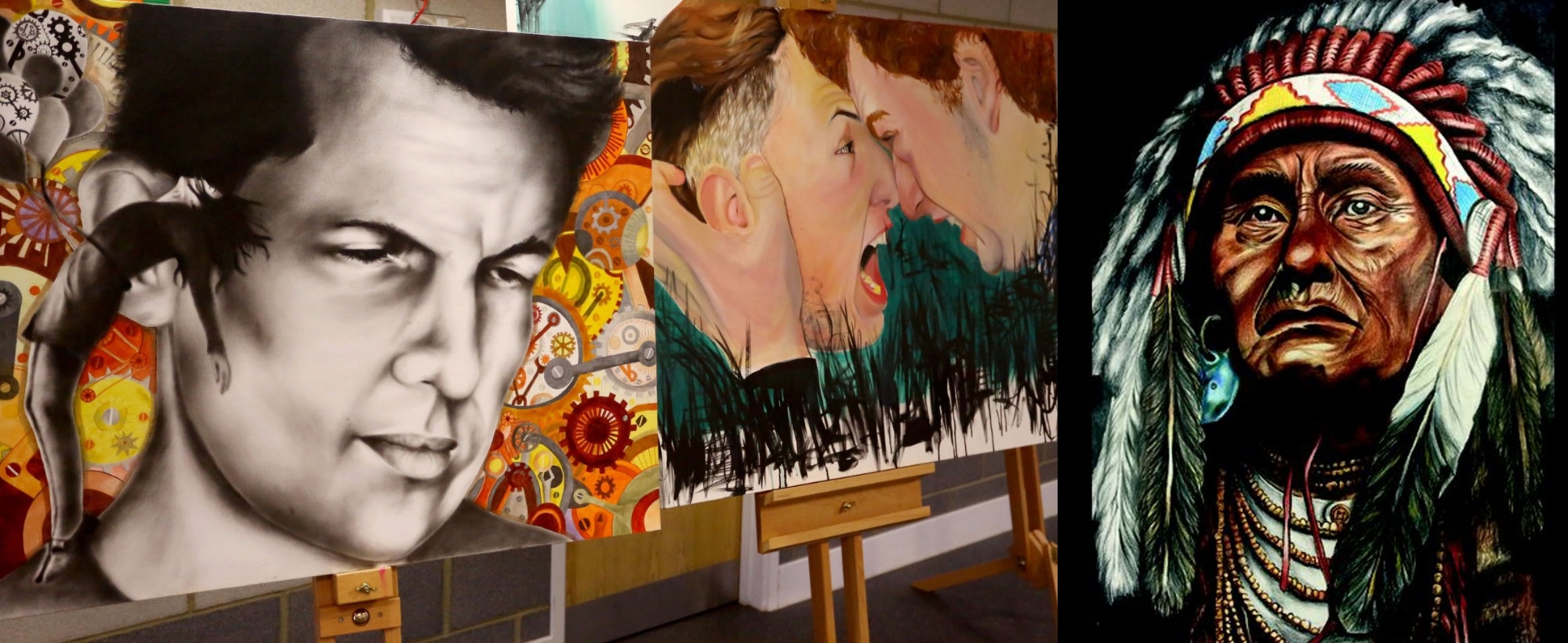 Introduction to the Department
The Art Department is housed in a purpose built studio. We are well equipped and resourced and provide a stimulating environment for our students to carry out their creative work. All our students are encouraged to work hard and enjoy the subject. Students are taught in mixed ability groups and every level of ability is valued. Help and support is provided to help individuals to improve their skills and reach their potential.
The Art department has always achieved outstanding results at GCSE and A-level. Take up numbers for both courses are high. In the last six years our students work have been selected three times as finalists in The Saatchi Schools prize.
Why Study Art?
Students that study art are four times more likely to be recognised for their academic achievement and three times more likely to have increased school attendance.
Art promotes fundamental cognitive abilities used in other subjects.
Art enhance cultural appreciation and awareness.
The future economy is dependent on a creative generation.
Art is a universal language that everyone in the world can speak. It cuts across racial, cultural, social, educational and economical barriers.
Key Stage3

Everyone has the opportunity to explore many areas of art. Below we have listed a few of the activities that take place in the art rooms and these provide a flavour of the exciting projects:
Drawing - Sculpture work - Textile Work - Ceramics Glassware Collage and mixed media work - Painting - Printing
Work based on other cultures
Critical Studies - Computer Aided Design
Key Stage 4
The GCSE course is very varied. GCSE Art students usually work on about two topics over two years. Some of the work will be directed by your teacher, especially at first but you will have plenty of time to develop your own ideas.
Often you will be given a theme, which you will need to research. Observational studies are a good place to begin. Always try to draw from first hand experience, which means from objects, people, etc. A camera is useful to record information.
The Internet is a valuable tool to research the work of other artists. When you have produced a collection of studies you are able to develop ideas for larger scale work. These may be paintings, sculpture, prints, textile pieces—the possibilities are endless! During the course you may visit Art Galleries or places that are excellent for drawing.
Examination Information

AQA
GCSE Fine Art
; A Level Art and Design
How will my work be assessed?
60% Coursework—you will have to submit two good projects of work. You must work hard to better your standard of coursework over the two years. The new GCSE asks for one project and supporting portfolio work.
40% Examination—At the end of the course you will be given several examination topics. You will explore one of these themes over three months. You will sit a ten hour exam, in which you will produce your own work in a medium of your choice.
Other Information
Art Clubs run over most dinnertimes. You can access the rooms to continue with your studies and project work. Please make sure that you get a teacher's permission to be using the rooms.
We have completed some wonderful collapsed timetable days involving Art, Music and Drama. In Year 7 we have Superhero Day where students produce a short animated storyboard and dress up as a new superhero character. In Year 8 we have A Day of Horror. In one day students script, film and edit a horror story.